Philadelphia Will Give Hundreds of Dollars a Month Out to These Select Residents
A guaranteed income program will pair money with important resources for a few dozen Philadelphians.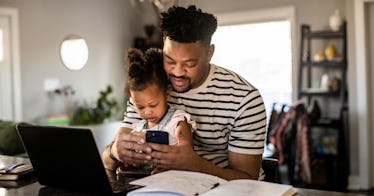 MoMo Productions / Getty Images
Raising kids is expensive — and there are far too many families struggling to provide basic needs. As basic income as an idea — and as an actual, real-life program — has taken hold in cities across the United States from New. York City to Stockton, California, Philadelphia is moving forward with a basic income pilot program in hopes to collect data on its effectiveness. Families in the program will receive $500 a month.
According to WHYY, Philadelphia will begin giving up to 60 people in the city $500 each month for a year by March of 2022. The people chosen to participate in the pilot program will be selected from a pool of 1100 people who received federal support in the past five years from Temporary Assistance for Needy Families (TANF). A total of $322,000 from TANF funds has been set aside to cover the cost of the program.
The key indicator for this program that sets it apart from others is that those selected to receive $500 a month for the next year "don't have to do anything extra for this money," Dr. Nikia Owens, Philadelphia's deputy executive director of family supports & basic needs tells WHYY. The money is set to be distributed to recipients through direct deposits or prepaid bank cards, administered by the UpTogether organization.
As part of the pilot program, WorkReady initiative, in partnership with JEVS Human Services and the Office of Community Empowerment and Opportunity will also be providing recipients with "case management, coaching, licensed counseling, and peer to peer experiences to develop a career pathway," an executive summary shared, according to WHYY.
Dr. David Pate with the University of Wisconsin-Milwaukee's Helen Bader School of Social Welfare and Dr. Deborah Blanks will study the impact of the pilot and how it impacted recipients, comparing the outcomes for people who received funds to a control group. The control group will consist of 250 people who will receive the same career support services, but without the cash.
Owens explained that one of the main measures of success in the program slated to launch later this spring is to "measure of success will be how many people are able to find full-time employment and stop using TANF by the end of the pilot."
Philadelphia isn't the first city to begin looking into the potential benefits of basic income programs. Stockton, California recently wrapped up a one-year program where 125 recipients received a guaranteed income of $500 a month with no strings attached. The results were incredibly promising. Residents were happier, able to find better-paying work, and struggled less to provide basic needs for themselves and their kids, study results showed.
This article was originally published on