Phil Collins Goes Viral (Again) Over Retro Disney Masterpiece
The 'Tarzan' soundtrack has become an enduring piece of Collins' legacy.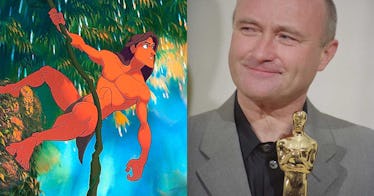 Disney; Getty
More than 20 years after its release, fans still cannot get over how unbelievably good Phil Collins' Tarzan soundtrack is, so much so that the legendary songwriter is going viral as people continue to celebrate the songs that are far better than songs for a kid's movie have any right to be.
Typically, the soundtrack for a kid's movie is, at best, forgettable and, at worst, extremely annoying. But when the former Genesis drummer and singer was asked to write the songs for 1999's Tarzan, he decided to give it his all and write tunes that remain classic to this day, including "You'll Be In My Heart," which managed to win an Oscar.
The entire soundtrack is so damn impressive that it became a global phenomenon, selling more than 2 million copies and being regarded as perhaps the best Disney soundtrack ever, though Elton John and his iconic Lion King soundtrack would surely have a thing or two to say about that.
And it is heralded by fans to this day for no real reason at all, other than people just really liking it. In fact, earlier this week, Phil Collins went viral on Twitter just because people remembered that the Tarzan soundtrack is a masterpiece.
Thousands of fans have shared their undying love for the soundtrack, praising Collins for making every song an undeniable classic, from "Two Worlds" to "Son of Man."
It's one of the few things in life that everyone seems to agree on (except Trey Parker and Matt Stone, who may still be bitter that "Blame Canada" lost the Oscar to "You'll Be in My Heart).
The soundtrack is so beloved that it seems to receive the viral treatment every few months and we certainly aren't mad about that.
So let's all celebrate Collins' brilliant work by putting on the Tarzan soundtrack and escaping to a simpler time.