Meet the 8-Foot-Tall Horse That's Taken Over the Internet
This horse isn't from here, Abby!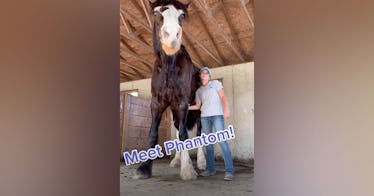 If you think you've seen a horse, you've never seen a horse like this! Meet Phantom, a 7-year-old Shire breed horse that's taken the internet by storm. He's one of the world's tallest horses, and videos from the rescue where he lives have gone mega-viral.
Phantom lives at Gentle Giants Draft Horse Rescue, a rescue center in Maryland. He had to move there after he outgrew his previous caregivers' stables. Given his uncommon size, it's not a surprise he needs some extra room. Phantom weighs a staggering 2,000lb and measures just under 7-feet-tall, or 20.1 hands to his withers. However, adding in his head, he sits around 8 feet.
The Gentle Giants Draft Horse Rescue shared a video of Phantom on TikTok. It was clear to everyone that this wasn't a typical horse (which reminds us of a viral video from TikTok star Lubalin about an argument over the world's tallest horse). A video introducing Phantom amassed close to 13 million views. And Phantom gets a similar reaction in public.
NewsflareNewsflareGuinness World Records