Pfizer Vaccine Reportedly Only Effective For 6 Months — Here's What that Actually Means
Booster vaccines are being considered for variants and longer-term efficacy, but will we need them?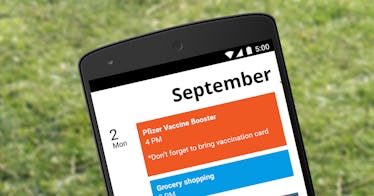 Google/Fatherly Illustration
New data from Pfizer-BioNTech reveals that the vaccine is up to 91 percent effective for fully vaccinated people for up to six months after the vaccine was administered. The company also revealed that the vaccine is also effective against the COVID-19 variant from South Africa. Here's what you need to know about the vaccine's efficacy, what it means for long-term authorization of the vaccine, and whether or not we'll need booster vaccines down the line.
What to Know
Pfizer said on Thursday, April 1, that the vaccine is effective against the COVID-19 South African variant (B.1.351) and effective for at least six months after vaccination.
That the vaccine is effective against the variant suggests that the vaccine will be highly effective in real-world conditions.
In a trial of the vaccine's efficacy, which included 44,000 people, some of whom were given the vaccine and others who were given the placebo, only 77 symptomatic cases of COVID-19 took place of those who were vaccinated, making the vaccine 91.3 percent effective. In the trial, part of which took place in South Africa itself, six cases of the B.1.351 were found, but they were only found among those who hadn't received the vaccine, suggesting that the Pfizer vaccine could be 100% effective against that variant.
Pfizer will now apply for a Biologics License Application to the FDA. That license would allow the vaccine to be authorized permanently — a step further than the emergency authorization the vaccine maker and others received in the midst of the pandemic.
Will We Need Annual or Booster COVID Vaccines?
Time will tell. While Pfizer's vaccine results suggest that the company won't need to create a booster for the B.1.351 variant specifically, as of late February, they were still researching boosters for variants and had the belief they may need to manufacture boosters, much like a flu vaccine. And there are different vaccines out there with different efficacy against COVID-19 variants.
Plus, vaccines often aren't effective forever — the COVID-19 vaccine might be a semi-annual or annual vaccine that we need to get like the flu.
Pfizer CFO Frank D'Amelio said that the COVID-19 vaccine might have to shift gears if the virus becomes endemic to our society. D'Amelio said that it's "increasingly likely that an annual revaccination is going to take place," and that it will be necessary for the foreseeable future, according to FiercePharma.
To that end, Moderna has begun testing a new COVID-19 vaccine to protect those who got that vaccine against the South African variant, to operate as a booster.
While data so far has shown that the current COVID vaccines are effective against the B.1.351 variant, Anthony Fauci has said that vaccine makers are proceeding out of an abundance of caution and developing variant-specific vaccines and boosters.
Only time will tell, but as of right now, it looks like an annual booster may be in the cards for COVID-19 vaccines.
This article was originally published on