Pfizer Vaccine Finally Fully FDA-Approved. Here's Why That Matters
The full stamp of approval paves the way for two important things.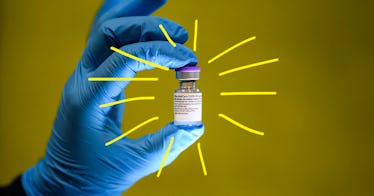 GETTY
It's been eight months since a vaccine for COVID-19 was approved by the Food and Drug Administration (FDA) for emergency use authorization (EUA). The Pfizer-BioNTech COVID-19 was the first to hit the ground. With that, the United States was able to begin rolling out its vital vaccination program to battle against COVID-19. And now the vaccination has received the official and complete stamp of approval from the FDA for people 16 and up.
According to USA Today, approval of the Pfizer vaccine, the most-received COVID-19 vaccine in the United States with more than 200 million doses already administered, comes after hundreds of thousands of pages detailing months of data on its efficacy and safety. The full approval was based on data collected from more than 44,000 people who were followed for six months after receiving the vaccine.
"The public can be very confident that this vaccine meets the high standards for safety, effectiveness, and manufacturing quality the FDA requires of an approved product," said acting FDA Commissioner Janet Woodcock. "Today's milestone puts us one step closer to altering the course of this pandemic in the U.S."
So, what does this approval mean, especially since many Americans received the vaccines during the emergency use phase? What does it mean for kids age 12 to 15? The full approval can have a significant impact in two areas specifically. For kids, the impact will be less direct.
Vaccine-Hesitant People May Seek Out the Vaccine
The first reason approval matters is that it may be a convincing factor for the vaccine-hesitant population who cite "it's not fully FDA-approved" as one of their reasons for not getting the shots.
Now that the vaccine has full approval, it may help ease worries and help increase the percentage of people vaccinated across the country who are at an astronomically higher risk of getting severely ill, being hospitalized from, and dying of COVID-19.
"Based on the longer-term follow-up data that we submitted, today's approval for those aged 16 and over affirms the efficacy and safety profile of our vaccine at a time when it is urgently needed," said Albert Bourla, the chairman and CEO of Pfizer. "I am hopeful this approval will help increase confidence in our vaccine, as vaccination remains the best tool we have to help protect lives and achieve herd immunity."
Employees, Local Governments, and More May Begin to Mandate Vaccination for Employment
But the approval also has another impact that we might see ramp up quickly. With the full FDA approval of the Pfizer COVID-19 vaccine, we may begin to see more vaccine mandates take hold in universities, local governments, and companies.
"Mandating becomes much easier when you have full approval," said Dr. Carlos del Rio of Emory University. "I think a lot of businesses have been waiting for it."
This welcome news comes as the Delta variant continues to spread around the country at the same time that fall and the back-to-school season are hitting, too.
For Kids 15 and Under, Not Much Changes — Except for Their Potential Safety
For kids age 12 to 15, the vaccine is still under EUA. That means that while kids 12 and up can definitely still get the vaccine, it's not 'fully approved' yet. It's important to note that EUA still must meet rigorous testing standards and the vaccine is extremely safe and effective in kids, who will be more at risk than they were when schools were remote as they re-enter classrooms and come into contact with plenty of people in classrooms and in the world. Full approval will come sometime soon.
And while the full approval doesn't yet pave the way for kids under 12 to be vaccinated yet, emergency use approval is expected for this age group in the coming months.
What will change for kids is the potential hope that vaccination rates will uptick with full approval, giving children a shield of vaccinated adults surrounding them and keeping them safer from COVID-19, which is hospitalizing kids at record rates.
This article was originally published on