Kids Could Get Vaccines Before School Starts — What Parents Need to Know
Pfizer asked the FDA for emergency authorization to start inoculating kids aged 12-15.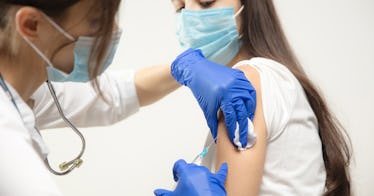 On Friday, April 9th, Pfizer-BioNTech requested emergency authorization to use its COVID-19 vaccine on kids aged 12-15 following positive trial results that found it was 100 percent effective at preventing COVID-19 illness in that age group, making it even more effective in teens than adults.
The Pfizer vaccine is currently the only vaccine in the United States that is authorized for use in kids 16 and up — Moderna and Johnson & Johnson are only authorized for use in people 18 and up — and opening up the age ranges of the vaccine is a great start in reaching herd immunity. Here's what to know.
Why Does It Matter That Teens, Tweens Get the Pfizer-BioNTech Vaccine?
Dr. Anthony Fauci has repeatedly said in the past that getting kids vaccinated against COVID-19 would be a turning point in reaching herd immunity in the United States, as it would inoculate an entire population of many millions of people against the deadly bug.
It would also help protect teachers and school staff when these kids, age 12 and up, inevitably re-enter school halls in the fall.
Add that to the fact that it would also help schools reopen more safely, at a time when a new U.K. COVID variant is infecting, and being spread by, kids at a high rate, at a lower cost. It's clear that vaccinating kids is the next frontier in fighting the war against COVID-19.
What Did The Pfizer-BioNTech Study Say?
Shortly after authorization to use in people 18+ in the United States, Pfizer-BioNTech, just like the other two COVID-19 vaccine producers, began doing studies on younger teens, big kids, and even infants. The most recent study that Pfizer is utilizing data from to achieve is a study of 2,260 kids age 12-15, which found the vaccine is even more effective in teens than adults. That study is now being submitted for peer review.
More trials — including one of kids aged 6 months old and up — are being held now by Pfizer.
Are Other Vaccines Authorized For Use In Teens Yet?
Pfizer is not alone in working on expanding who can get their vaccine safely. Moderna and Johnson & Johnson are also holding trials and studies of their vaccines' efficacy and safety in young teens, big kids, infants, pregnant people, and people with underlying health conditions.
Moderna's big trial of 12 to 17-year-olds should have results soon, which could mean that there could be two vaccines on the market for big kids and teens.
Moderna, like Pfizer and J&J, is also running a separate trial of children under 12. Vaccine eligibility could open up widely sooner than we expected.
Will It Be Approved, And If So, When?
Pfizer asked the FDA for emergency authorization to use the vaccine on kids age 12 and up on Friday, but it's unclear now when the FDA will respond and give the approval (or rejection.) But if the clearance is granted, the vaccine maker could be able to start inoculating kids before they re-enter school buildings at the beginning of the next school year.
This article was originally published on