Pfizer Says COVID Vaccine Approval For Infants Could Come Before 2022
The timeline isn't far behind the company's estimation for the approval of a vaccine for 5-11 year olds.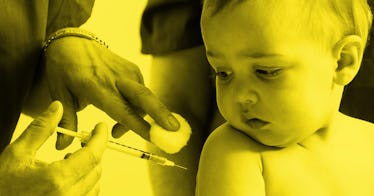 As cases of COVID-19 continue to surge in the United States, parents are keeping a close eye on details of approved vaccines for kids. Currently, Pfizer BioNTech is the only vaccine approved for kids 12 and up, but there isn't any vaccine — Johnson & Johnson, Moderna, nor Pfizer — approved for the younger group yet of kids below 12.
Last week, Pfizer-BioNTech confirmed the company was close to approval for a vaccine for 5-11 year olds, suggesting emergency use authorization could come in October, though, and now we have a timeline for kids six months old and up. Here's what you need to know.
During a news conference, Pfizer's Chief Financial Officer Frank D'Amelio spoke to attendees and gave an updated timeline for when Pfizer expects to apply for emergency use from the U.S. Food and Drug Administration (FDA) for its 6-months to 11-year-old age groups. And while the full approval of the vaccine for kids 12 and up means it can be used for "off-label" use, parents should wait for emergency use authorization.
The company shared they expect the data to be sent to the FDA for approval for the 5 to 11-year-old age group by the end of the month. Their timeline says they're hopeful that emergency use could be granted in October – depending on the data, of course. But we've not heard too much about the expected timeline for the even younger kids, 6-months to 5-year-olds. And that's what D'Amelio spoke to recently.
During the Morgan Stanley Global Healthcare Conference, D'Amelio said the expectation that the application for children between 6 months old and five years old isn't too far behind the older kid's group.
The expectation is that the company will file the data to the FDA "in the weeks shortly thereafter the filing of the data for the 5 to the 11-year-olds … assuming all of the data is positive," D'Amelio according to a transcript of his comments.