Pfizer Postpones Application For Under 5 Covid Vaccine — Here's Why
After initially filing an application for the vaccine for kids under 5, Pfizer has withdrawn their application (for now). Here's why.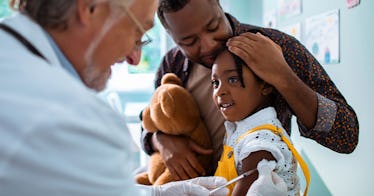 Just weeks after filing an application to the Food and Drug Administration (FDA) to expand the use of the Pfizer COVID-19 vaccine to use in kids from 6 months old up to age 5, Pfizer has withdrawn its application.
The company — which had filed for approval for young kids, the last group to not yet have an authorized COVID-19 vaccine, just weeks ago — will "wait for the three-dose data" to see if the vaccines are more effective with a higher number of doses. Indeed, Pfizer believes "it may provide a higher level of protection in this age group," per Axios.
That means that instead of vaccines rolling out as early as February 21st — as was expected and reported just days ago — the vaccines might not be authorized for this age group until April.
The setback will no doubt be frustrating to parents of young kids, especially as school districts and states roll back mask mandates that helped provide a layer of disease protection for their unvaccinated children in public spaces.
When Pfizer initially filed for authorization of the vaccine on February 1st, 2022, the data has been mixed on whether or not two doses of the vaccine actually provide a sufficient immune response in kids between two and five-years-old. Although two doses of a 3-microgram vaccine generated an adequate immune response for kids up to age two, kids between two and five didn't have as much protection from that two-dose regimen. Despite that, Pfizer still filed for authorization in hopes that the vaccine would be authorized for the two doses extended to a third dose once the data was available.
While young children are far less likely to get very ill or die from COVID-19, getting them vaccinated is an important way to keep them safe and also slow the spread of COVID-19 among adults.
It appears instead that Pfizer will postpone its "rolling application" to wait for more data on the three-dose vaccine.