Pfizer Approval Means It's Technically Legal For Kids. Parents Should Still Wait.
It *could* be prescribed to kids under 12 for "off-label" use, but experts ask parents to have patience and wait for authorization.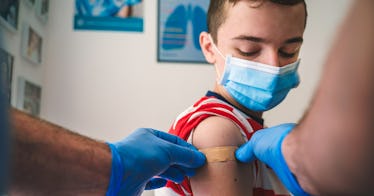 Experts are cautioning parents who may seek a Pfizer vaccination for under 12-aged kids without full FDA approval for the age group to wait until the vaccine is officially approved for kids 12 and under.
Technically, now that the Pfizer vaccine has been fully approved by the FDA, doctors could prescribe the Pfizer BioNTech COVID-19 vaccination for the population of kids under 12 for "off-label use" since it was granted full approval for people aged 16+. But even so, parents should wait until there's more data. Here's what parents need to know.
According to USA Today, leading pediatricians around the country released a statement urging doctors to not prescribe the COVID-19 vaccines to kids under 12, even though they are now legally able to do so.
The Vaccine is Legally Approved for "Off-Label Use"
ull approval of the Pfizer vaccination through the FDA
Parents Should Still Wait for a Vaccine to be Approved for Kids Under 12
Trials are still ongoing for the 5-11 age group
But Kids 12 and Up, and Everyone Else, Should Get Vaccinated ASAP