Pfizer Could Get Vaccine Approval for Kids Aged 5-11 by October
Vaccines are our best defense, and right now our kids are vulnerable.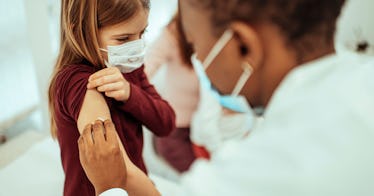 As the school year kicks off, parents have been worried about their kids, most of who aren't old enough to receive the vaccines against COVID-19, returning to classrooms for the first time since the pandemic began. With cases surging, top U.S. health officials have stated they believe the Pfizer COVID-19 vaccine could be given the greenlight for kids aged 5-11 by the end of October, opening up a massive number of kids currently in school buildings to finally get inoculated against COVID. Here's what you need to know.
According to Reuters, the timeline on when experts are expecting the Pfizer vaccinations will be available for kids can be relatively soon. "The timeline is based on the expectation that Pfizer, which developed the shot with Germany's BioNTech, will have enough data from clinical trials to seek emergency use authorization (EUA) for that age group from the U.S. Food and Drug Administration (FDA) towards the end of this month, the sources said."
The source continued saying that if Pfizer is able to submit its EUA by the end of this month, and the data supports the use, "by the time we get to October, the first couple of weeks of October… the Pfizer product will likely be ready," top U.S. infectious disease expert Dr. Anthony Fauci said.
It's all lining up to sound like the authorization for emergency use should happen within three weeks of submission. Fauci estimated that the other available vaccine, from Moderna, could have its data available for the FDA a month later, in November, according to a source.
This news would be welcome for so many as the Delta variant continues to spread across the country, causing dangerous surges of COVID-19. With the Delta, which is far more transmissible, and the start of the school year, more children have been falling ill and have required hospitalizations than at any other point during the pandemic. As kids are in more opportunities than ever to get sick — being face to face with people who aren't family members, going back to school, and playing sports — the vaccine will be a key safety measure to help them get through these next few months safely.
We know that vaccinations are our best defense to keep our communities safe and healthy. And a safe COVID-19 vaccine for kids will be a welcome relief for many worried parents.