Pfizer Will Apply to Give Vaccine to 5-11 Year Olds Soon
Good news for parents who are extremely concerned about back-to-school season.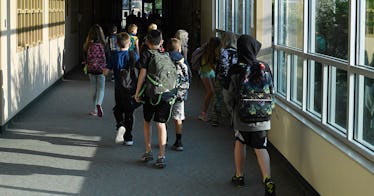 GETTY
As kids head back to school, parents worry about the coronavirus, mainly because children under 12 aren't eligible for a vaccine. However, things are looking good on that front, and Pfizer expects to have the data from its studies on the vaccine in children, which means that emergency use authorization for the vaccine in kids younger than 12 could be coming soon. Here's what parents need to know.
According to Business Insider, Pfizer and Moderna have clinical trials underway of the vaccine's efficacy and safety in kids under 12. Since March, both companies have been studying and collecting information on how the vaccine impacts kids under 12 years old and how effective it is in warding off the most severe risks of catching COVID-19.
The publication reports that one of the "biggest hurdles to getting the population vaccinated" is ensuring there's a vaccine available for children under 12. "Nearly 15 percent of the country, or 48 million Americans – aren't yet eligible to receive coronavirus shots," it reports.
And it seems like overcoming that hurdle isn't too far away. Reports indicate Pfizer, the only vaccine currently available for kids 12 and up, expects to have the data about the vaccine's efficacy in children between the ages of 5 to 11 by the end of September this year. And the company can take that data to the Food and Drug Administration, which typically takes a few weeks to review before approving for emergency use.
"That would put the US on track to start administering shots to young kids in October at the earliest," Business Insider reports. "Assuming the trial results are good." And if the company can meet that deadline, it will be a very welcome relief for parents.
As school starts and many without mask mandates, parents are understandably worried about the spread of the virus, particularly the Delta variant widespread in hundreds of communities across the country.
Experts have been signaling warnings that kids are particularly vulnerable right now. Cases of COVID-19 are increasing among kids since the beginning of July. And adding the stress, studies now show that while babies and toddlers are less likely to get COVID-19 than older kids and teens, they are more likely than older kids to spread the virus to their household once they do contract the virus.
Of course, parents can do their part already if they have kids who fall in the ages already approved for a vaccine. Pfizer received approval in May 2021 for use in kids 12 to 17 years old. However, only 28 percent of kids in that age group have been fully vaccinated.
So, here's another reminder for parents who haven't gotten vaccinated themselves or are holding out on their kids getting the shots: get vaccinated.