COVID Booster Works in Kids 5-11, Pfizer Says
The data shows a strong, healthy immune response after the booster shot. And there are no new safety issues.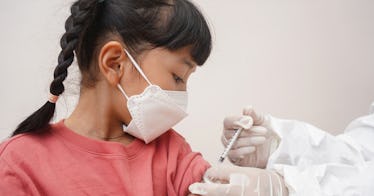 Narisara Nami / Getty Images
Pfizer-BioNTech said that healthy children ages 5 to 11 have a solid and safe immune response to the COVID-19 booster after completing its trial. The company is now compiling data of the booster's efficacy and safety in kids of that age range, and it plans to apply for an emergency use application soon. So what does that mean for our kids? This is what you need to know.
Pfizer Booster Trial for Ages 5 to 11 Has Positive Results
Pfizer has completed its trial phase of boosters for children between 5 and 11 and has concluded that the booster provides good immune response and is safe for kids. The clinical trial included 140 children in the age group. The third COVID shot increased antibodies six-fold against the original strain of COVID-19 in these 140 children. A sub-analysis showed that 30 kids had a 36-fold increase against the Omicron variant.
According to a Pfizer news release, the positive results "reinforce the potential function of a third dose of the vaccine in maintaining high levels of protection against the virus in this age group." As of right now, the trial results haven't been made available for outside scientists to review.
The Pfizer vaccine for kids aged 5 to 11 comes in a smaller dose than the one available for older kids at 10 micrograms compared to 30 micrograms. The booster shot for kids in this age group will also be 10 micrograms. Kids in the trial received the booster dose six months after their second vaccination.
Because the booster is already authorized for adults, regulators have allowed an immune response to serve as the metric in the trial instead of looking at actual COVID infections.
Pediatric COVID vaccine studies from Pfizer-BioNTech have included more than 10,000 children across a few countries, including the United States, Spain, and Poland. No new safety issues arose among the group of the approximately 400 children who took part in the booster trials.
Pfizer to File for Booster Authorization in Ages 5 to 11
With this data, Pfizer is expected to submit the results to the Food and Drug Administration (FDA) to seek emergency-use permissions for the booster shot in this age group.
COVID vaccination for children aged 5 to 11 was authorized in early November 2021. According to data from the Centers for Disease Control and Prevention (CDC), approximately 28 million children in the U.S. fall into this age group. About 10 million have received at least one dose of Pfizer-BioNTech COVID-19 vaccination, the only one approved for use in the age group.
The only age group that doesn't yet have an authorized vaccine against the coronavirus is kids under 5. Trials are still underway but haven't been submitted for authorization yet after two vaccine doses didn't provide a robust immune response and Pfizer withdrew their application. A third dose is now being trialed for that age group before that data will be submitted to the FDA.