Pfizer Files Approval For COVID Vaccine For Kids. Here's What Rollout Might Look Like
Pfizer and BioNTech have officially submitted vaccine trial data to the FDA.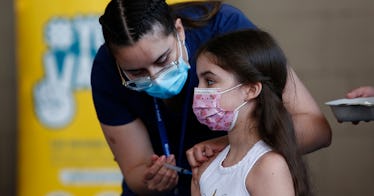 GETTY
Pfizer and BioNTech have officially filed for emergency use of its COVID-19 vaccination for kids 5 to 11 years old with the U.S. Food and Drug Administration (FDA). The pharmaceutical companies submitted their clinical trial data after reporting that it was effective and safe at producing antibody responses. If all goes as expected, we could have an approved vaccine for kids in as little as five weeks, and it sounds like the rollout is going to be swift. Here's what parents need to know.
"We and @BioNTech_Group officially submitted our request to @US_FDA for Emergency Use Authorization (EUA) of our #COVID19 vaccine in children 5 to <12," Pfizer tweeted on October 7, 2021. "With new cases in children in the U.S. continuing to be at a high level, this submission is an important step in our ongoing effort against Covid-19. We're committed to working with the FDA with the ultimate goal of helping protect children against this serious public health threat."
vaccine for kids clinical trial data
If Pfizer's COVID-19 vaccine for kids is approved, how fast will rollout happen?
If Pfizer's COVID-19 vaccine for kids is approved, what will rollout look like?