Online Petition To Make LeVar Burton Next 'Jeopardy!' Hosts Gets 56,000 Signatures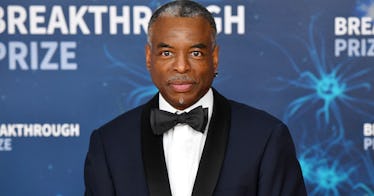 Getty
Answer: What is LeVar Burton becoming the next host of Jeopardy? Question: What is something that nearly 60,000 people on the internet really want?
After Alex Trebek tragically passed away earlier this week after a lengthy battle with Stage 4 pancreatic cancer, tributes to his life, his career, and his love of knowledge have poured in around the world from fans, friends, family, and other celebrities alike. On this list of well-wishers to the survivors of Trebek is LeVar Burton, the overall legend of Reading Rainbow and Star Trek fame (as well as a few of the best episodes of Community).
And now, LeVar has found himself at the center of a 60,000+ deep petition launched on Change.org to make LeVar a new figure in the Jeopardy! world. What figure? Fans, apparently, want him to host the show in the wake of Trebek's passing.
Obviously, LeVar isn't the only person who has been floated as a potential host. Rosie Perez, Ken Jennings of Jeopardy! fame himself, and George Stephanopoulos have all been floated as potential replacements for the GOAT Trebek, who hosted 35 years of the show. But LeVar is the only one of them to have a huge petition built out of grassroots support for his tenure as a host, even though episodes featuring Trebek will continue to air until Christmas day.
Still, LeVar is understandably being gracious about the whole thing. In response to the petition and the speculation about him, he simply tweeted in response: "Of course, while I'm very flattered by the petition, my thoughts are definitely with Alex Trebek's family and his millions of fans and the devastating loss of this irreplaceable legend." Our money is still on Ken Jennings taking over the Jeopardy! mantle — it only seems fair and appropriate — but if not, LeVar would be a good bet, too.
This article was originally published on