Petition Calls For Trader Joe's To Ditch Its Racist Food Labels
And Trader Joe's has responded 
by Isabella Bridie DeLeo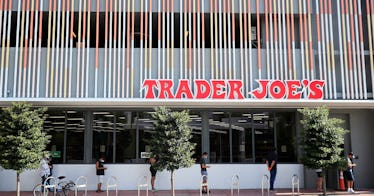 Getty
If you've ever walked into a Trader Joe's and cringed at racist product labels like "Trader Ming's," "Arabian Joe" or "Trader José," you might agree with the upwards of 2,500 people, at the time of this article's posting, who've signed a Change.org petition calling on Trader Joe's to re-label some of its ethnic products.
The petition, which was started by 17-year-old Briones Bedell, states, "We demand that Trader Joe's remove racist branding and packaging from its stores," adding that "The grocery chain labels some of its ethnic foods with modifications of 'Joe' that belies a narrative of exoticism that perpetuates harmful stereotypes."
It appears that the petition could potentially instill some urgency for the company, since it looks like Trader Joe's execs will be removing said labels sometime soon. In a statement, the company's public relations director Kenya Friend-Daniel wrote, "While this approach to product naming may have been rooted in a lighthearted attempt at inclusiveness, we recognize that it may now have the opposite effect—one that is contrary to the welcoming, rewarding customer experience we strive to create every day." Friend-Daniel added, "With this in mind, we made the decision several years ago to use only the Trader Joe's name on our products moving forward."
Although there are still products with these labels on the shelves, the New York Times writes that the company is working to update them. When will Trader Joe's finish doing this? That's TBD, apparently.
But why did Trader Joe's employ racist branding in the first place? A Disney ride vaguely had something to do with it. In the petition, Bedell points out that the original Trader Joe's store had: "A nautical theme and it was run by people who were described as 'traders on the high seas.' At the time, Joe [Coulombe, the company's founder] had been reading a book called "White Shadows in the South Seas," and he'd been to the Disneyland Jungle Trip ride, and it all just…coalesced."
Hmm. Bedell adds that the tropical-themed shirts that the company's crew members wear have an insidiousness about them too, "To this day, Trader Joe's Crew Members consider themselves 'traders on the culinary seas' and are known for their bright, tropical-patterned shirts." Yikes.
This petition comes around the same time as other food brands like Aunt Jemima and Uncle Ben's are reimagining their products so as not to perpetuate racist imagery and Disney World announcing that it will change the problematic ride "Splash Mountain," which was based on a horribly racist Disney film, The Song of the South.