Skincare Trend 'Penis Facial' Uses Infant Foreskin and People Are Furious
Just when you thought you'd seen it all.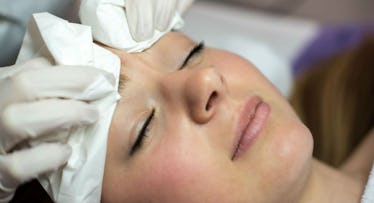 Getty
"Child abuse as a beauty treatment." That's just one of many outraged comments flooding social media after people recently learned that penis facials contain the foreskins of circumcised Korean infants. Beloved by celebrities like Sandra Bullock, Emma Stone and Cate Blanchett, the bizarre new skincare trend is now being blasted following an Instagram post that revealed the use of stem cells and proteins found in newborns' foreskins.
First brought to light in May, when Blanchett told Vogue Australia "it smells a bit like sperm – there's some enzyme in it so Sandy [Bullock] refers to it as the penis facial," the treatment is officially called the epidermal growth factor (EGF) facial and uses a serum that adds collagen and elasticity to skin. According to NYC facialist Georgia Louise, who gave Blanchett and Bullock their $650 facials, "EGF is derived from newborn baby foreskin, BUT cells were taken and from that, new cells are cloned from a laboratory."
However, the controversial trend is back in the spotlight—and not in a good way. Penis facials are receiving a lot of backlash following a November 21st Instagram post by actress Kate Beckinsale, who captioned her photo, "After a long flight I do like to lie down and be covered in a mask of liquified cloned foreskins – frankly who doesn't?"
The post has since been deleted after sparking furious responses from people who claim the use of infant foreskins is "creepy" at best and flat-out "child abuse" at worst.
But while some believe that circumcision is unethical since babies cannot consent to the procedure, it's still legal in many countries around the world, including the United States. Not only that, but all of the ingredients found in the penis facial serum are approved by the U.S. Food and Drug Administration.