FDA Approves Peanut Allergy Drug: What Families Should Know About Palforzia
1 million children in the U.S. live with a peanut allergy.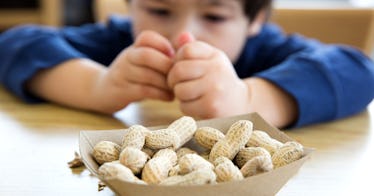 There was great news to celebrate this week for parents of children with peanut allergies after the U.S. Food and Drug Administration (FDA) approves the first peanut allergy drug. Called Palforzia, the drug isn't a cure, but it may help reduce the more severe effects of anaphylactic allergies. It's estimated that nearly 1 million children in the U.S. live with a peanut allergy, and this new medication will be an added tool to help accidental contact with peanuts. Here's everything you need to know about Palforzia, and how it may help your child.
What is Palforzia?
Palforzia is a powder made of peanuts approved for kids ages 4-17 who have been diagnosed with a peanut allergy. The idea is for the child to build up a tolerance to peanuts, not to the point of being able to purposely eat peanuts but to protect them in case of accidental ingestion or contact.
"When used in conjunction with peanut avoidance, Palforzia provides an FDA-approved treatment option to help reduce the risk of these allergic reactions in children with peanut allergy," Peter Marks, the director of the FDA's Centre for Biologics Evaluation and Research, wrote in a statement.
How does Palforzia work?
The idea behind Palforzia is to build up a tolerance through a form of exposure therapy. (So yes, this means you're exposing your kids to some actual peanuts.) Palforzia is essentially a defatted peanut flour combined with these inactive ingredients: microcrystalline 324 cellulose, partially pregelatinized maize starch (0.5 mg, 1 mg, 10 mg, 20 mg capsule presentations 325 only), magnesium stearate, and colloidal silicon dioxide.
After about 6 months of therapy, patients can supposedly tolerate the equivalent of about 1-2 peanuts. Children who take Palforzia will need to take the daily maintenance dose indefinitely in order to maintain the protection.
What are the side effects of Palforzia?
The FDA warns that there are some common side effects that come along with using Palforzia. These include things like vomiting, nausea, abdominal pain, tingling in the mouth, runny nose, itching, and a cough. Allergic-type reactions including throat irritation, wheezing, tightness, and shortness of breath. Hives and anaphylaxis can happen too. Palforzia is not available to kids who have uncontrolled asthma.
How much does Palforzia cost?
The cost of the drug has a list price of $890 per month, but the company does offer an assistance program that can drop the price down to as low as $20. The FDA says that the drug is only available through "specially certified healthcare providers, health care settings, and pharmacies" who are versed in the dangers, signs, and treatment of anaphylaxis.
The FDA says the initial dose of Palforzia can only happen in a certified healthcare setting under medical supervision where equipment and monitors are available to identify and manage anaphylaxis. Families who have children on Palforzia should always carry and have an EpiPen available.
The Centers for Disease Control and Prevention says that 1 in 13 children have a food allergy, and with very few kids ever outgrowing a peanut allergy, this medication is an added layer of safety that has the potential to save many lives.
This article was originally published on