Here's The PBS Curriculum For Parents To Explain Jan 6. Insurrection
Trying to talk to your kids about what happened yesterday is not easy. PBS is here to help.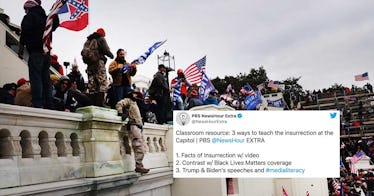 Getty
Are you struggling to figure out how to make sense of how to talk to your children about what happened yesterday? PBS is here to help.
Unless you were under a rock for the entirety of January 6th, 2021 — and I am deeply jealous of you if you were — then you know that yesterday was a momentous day in American history and a truly terrible one for American democracy. An armed white mob of protestors, rioters, and insurrectionists, egged on by President Trump, took over the Capitol building yesterday in an effort to stop lawmakers from certifying a free, fair, and fraudless election — sending the Capitol building into lockdown, and lawmakers in fear for their lives. Not just the lawmakers, though: the dozens of Capitol Hill workers who don't write policy were also in danger, and in the midst of the fighting, at least four people died in D.C.
For those who were reading the signs, yesterday's violent sedition was no surprise. QAnon and Trump supporters had long pointed to January 6th as a day that would be remembered in the history books — and Trump, as well as other Republican lawmakers like Representative Josh Hawley, Senator Ted Cruz, and Senator Lindsay Graham, fanned the flames of violence by lying about the election, calling it fraudulent and insecure, despite the fact that it was not. Those Senators have since attempted to dust their hands of the deaths — and the President was locked out of Twitter for 12 hours after repeating lies about the election that could lead to violence.
What happens next in American democracy will ensure whether or not it can survive. While Biden's election is certified, there is very little to think that something like this couldn't happen again — especially if there are more sympathetic representatives and lawmakers who seem to think that voters will doesn't matter. And, of course, there's the question of how to talk about it with your kids, in an age appropriate way, in a way that gets all the major facts down, in a way that you can keep expanding on, and growing on, as the conversations continue to unfold. Well, luckily, PBS is here with a classroom resource that they put together in the very late evening of January 6th — and the resource is a goldmine.
The classroom resource includes a PBS video of Trump supporters taking over the capitol building — which you are instructed to watch. There are factual summaries of the events that occurred and then open-ended questions that the class (or rather, you and your child) can ask and answer together.
The second section of the lesson includes a compare and contrast between the police and National Guard reaction to the Black Lives Matter protests — which were largely peaceful — and yesterday's violent events, with a series of questions for you and your kids to answer. The two photos are of a police officer helping a white woman who just stormed the Capitol building down the stairs and riot police charging at a Black woman who is standing with her arms outstretched to detain her.
The third activity in the lesson includes a compare and contrast between current President Trump's and President-elect Biden's comments about the violence, riots, and attempt to overturn a fair and free election. While President Trump told the protestors that he loved them, Biden had a different take on the event. Questions are included for you and your kids to talk about, as well, as well as extra links to more educational resources.
Yesterday was a dark day in America's history — and it was one that was foretold, as soon as President Trump refused to accept the results of the election. The most important thing that parents can do now is to talk to their kids about it fully, honestly, and openly, so that nothing like this can happen again.
This article was originally published on