Survey: 64 Percent of Americans Living Paycheck to Paycheck
Americans need to make double the current national average salary to feel financially secure.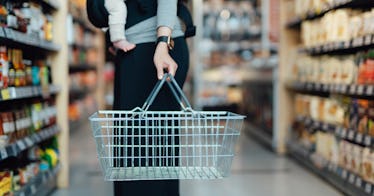 Oscar Wong / Getty Images
These past two years have been absolutely brutal, and the hard truth is that it's not likely to get any easier for a while. While the pandemic is being better managed right now, the economy has taken a massive hit, and inflation is out of control. Now, a new survey suggests 64 percent of Americans are living paycheck to paycheck, showing that even wealthier Americans are feeling the pinch economically.
A new LendingClub report shows that even though wage growth is higher than it's been, the increase in the cost of living and the rapid jump in inflation (it has shot up so fast, it's growing at the fastest pace in over 40 years) has made wage gains, well, not wage gains at all. While Americans are making more in wages than they were a few years ago, the cost of living has outdone any benefits of wage gains.
The problem isn't isolated to people who make lower wages either. The LendingClub surveyed more than 2,600 adults and discovered that 48 percent of those who earn six figures are also living paycheck to paycheck. And most people in the country are not making six figures.
"Wages are up 5.1 percent over the past year, which is trailing the pace of inflation," Bankrate.com senior economic analyst Mark Hamrick said, according to CNBC. "Indeed, surging prices are stealing the show on the minds of consumers."
When inflation is increasing at exponential rates and wages are rising at a much slower pace, it adds challenges for families, particularly in trying to budget for food or gas. In December of 2021, 61 percent of the population in the US was living paycheck to paycheck. At the start of 2022, that percentage rose to 64 percent.
"We are all seeing the cost of everything shooting up," Anuj Nayar, LendingClub's financial health officer said, according to CNBC. However, paying more for gas and groceries is hitting households particularly hard, he said.
"You've got to eat, you've got to commute; these are not discretionary expenses."
So, what does that mean for most of us? CNBC cites a report from the financial services website Personal Capital that reveals if Americans want "to feel financially secure," they need to make double the current national average salary. The national salary is nearly $67,000 a year, so that would be something like $140,000, yearly. That's not exactly chump change.