Paul Rudd's Daughter Has Hilarious Reaction To His 'Friends' Role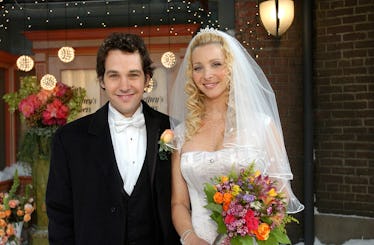 NBC/NBCUniversal/Getty Images
Paul Rudd is as close to being universally beloved as an actor as anyone who has been acting for a long time can be. But one person is very uninterested in Rudd's work, particularly his role on the iconic sitcom Friends. And that one person is Rudd's daughter.
Rudd recently appeared on Watch What Happens Live with Andy Cohen, and Rudd's role in the penultimate season of Friends came up in their discussion.
Rudd's 13-year-old daughter, Darby, watched the series from start to finish when she was 11. But Darby wasn't expecting to see her dad in the show in Seasons 9 and 10.
In the series, Rudd played the role of Mike Hannigan, the love interest of Phoebe Buffay, played by Lisa Kudrow. He was in 16 episodes, spanning two seasons, including the very last episode of Friends, which aired for 10 seasons.
"About a year ago or two years ago, my daughter really loved Friends, and she kind of started watching all of them from the beginning and kept going," Rudd shared. "And I didn't tell her I was on it, and then she discovered that, and then the first thing she said is, 'What was going on with your hair?' and then, like, 'Ew, that sweater.'"
Darby loved the show, according to Rudd, but she didn't love that her dad was there. "It was almost like a disassociation," Rudd explained. "She was, like, not interested in me being a part of it."
"She didn't ask me questions about it. She loved the show, she loved the friends," he added, but she didn't love that he was there.
Rudd said his appearance on Friends was an "irritant" for his teen daughter. What a teenage thing to say — she might be the only person not impressed by Rudd!