This Parody Video of Disney Characters In Quarantine Is Legit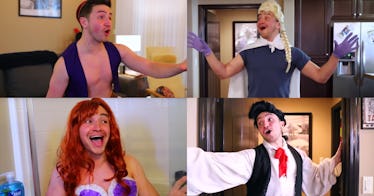 What would a Disney character do in a quarantine? How would Rafiki handle baptising a new prince when crowds over 10 are not recommended for the time being under federal social distancing guidelines? What would the Little Mermaid do if she wasn't able to leave her castle? If Gaston cared about disinfectant rather than his ego, or both? If Aladdin was singing about a viral infectious disease and the need to stay home rather than the virtues of exploring the world?
Well, now you know, because YouTuber Kurt Tocci made a parody video of what each Disney character would do and namely, sing about, during a coronavirus quarantine from Aladdin to Baloo from The Jungle Book.
Each character sings a recognizable Disney song, but with new lyrics that highlight the reality of social distancing and self-quarantining during the Coronavirus pandemic. So now, Aladdin gets to sing about "A new disease/what can we do?/stay at home" rather than exploring the world. Instead of "Let it Go," Elsa sings about ordering food to-go instead of going to restaurants and exposing yourself to an infectious virus. The Little Mermaid is stuck in a bathtub, thinking about the world outside. It's pretty funny, inventive, and honestly, just silly enough to work.
This article was originally published on