Paris Jackson Gets Real About Her Parents — Michael Jackson and Debbie Rowe
She and her mom have a unique relationship after the death of her dad.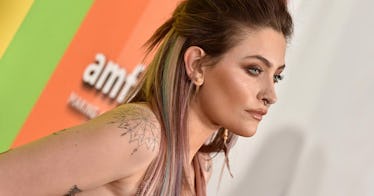 GETTY
Being born to famous parents has a lot of perks and downsides. Of course, not having to worry about money is a huge benefit. Living in beautiful homes, attending the prestige schools, traveling the world, and going on vacation are perks. But it can be really complicated for people like Paris Jackson, who had a lot of her parents' controversies air out in public. Recently, Paris Jackson gave a rare interview where she spoke about her parents: the late Michael Jackson and her estranged mom, Debbie Rowe.
Paris Jackson joined another celebrity kid, Willow Smith, daughter of Will Smith, for her first Red Table Talk Takeover on Facebook Watch. The two share that bond of understanding the perks and challenges in being the child of a celebrity. And that's what they spoke about.
Sitting down with Willow, Paris opened up about life after her father's death and the complicated upbringing she experienced. She also touched on her unique relationship with her mother.
"How did you find the strength to keep going after losing your dad?" Willow asked Paris who lost her dad when she was 11-years-old.
"I don't know; it kind of just happened. I was so young," Paris answered. "I was just going through the motions and didn't really understand what was happening, and so I just went with what I was told to do… I didn't really have much guidance."
After his death, Paris and her brothers lived with their grandmother, Katherine Jackson, since Paris was estranged from her mother, Debbie Rowe. In 1996, Debbie, a dermatology assistant, married the pop legend, having two children together before divorcing three years later. When they split, Michael had custody of Paris and her brother Prince. And after that, Paris had very minimal contact with her mom.
But in 2013, four years after her dad passed away, then 15 years old, Paris reconnected with her mom, and the two have formed a non-traditional relationship.
"It's cool, getting to know her, seeing how similar we are, getting into what kind of music she really likes," Paris shared. "She really likes country and folk, so I sent her some of the stuff I'm working on."
"It's just cool having her as a friend," she said. "It's very chill, which I love; that's the perfect word to describe it.
In an interview with Rolling Stone in 2017, Paris spoke about how close she was to her dad and working through the grief of his death.
"They always say, 'Time heals,'" she said. "But it really doesn't. You just get used to it. I live life with the mentality of 'OK, I lost the only thing that has ever been important to me.' So going forward, anything bad that happens can't be nearly as bad as what happened before. So I can handle it."