Most Parents Support Schools Making COVID Vaccines Mandatory, Survey Says
A survey has shown that most Americans support mandatory COVID vaccines for schools, just like they do with all other required vaccines.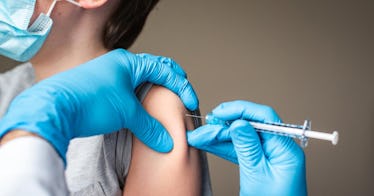 A new survey found that most Americans are in favor of a COVID vaccine requirement for students in middle school and up. Requiring the vaccine is a contentious political topic, and the debate heats up when it comes to kids. But with vaccination rates in decline and herd immunity on the brain, most people are leaning toward a requirement for students, like many schools already have for vaccines against chickenpox, measles, and other diseases.
Americans are more likely to support COVID vaccination requirements for older students, according to a Gallup poll of more than 3,500 people. Sixty-one percent support a requirement for college students, 56 percent for high schoolers, and 51 percent for middle schoolers.
People who are already vaccinated were much more likely to agree that students in all three age categories should be required to get the vaccine. Democrats were much more likely to support the idea than Republicans; seventy-seven percent of Democrats want middle schoolers to be required compared to 22 percent of Republicans.
The survey was conducted May 18-23, just after the Food and Drug Administration granted emergency use authorization for the Pfizer vaccine to be given to kids as young as 12. Moderna is currently awaiting a decision from the FDA about whether its vaccine can be given to children this age. The vaccines are also being studied in younger children, but experts expect they probably won't be approved until the fall.
Many colleges and universities have already announced that they will be requiring either all students or students living in dorms to be vaccinated against COVID before returning for the fall semester. Most K-12 schools have not made up their minds either way.
The survey also found that a slim majority of parents said they would or already have gotten their children vaccinated. Fifty-three percent of parents of kids younger than 12 said that they plan to get their kids vaccinated. The same percentage of parents of kids aged 12-15 have either already gotten their kids vaccinated or plan to, as have 59 percent of parents of teens aged 16-18.
Requiring vaccinations is nothing new. Many school districts and states have a long history of requiring vaccinations against diseases such as polio and hepatitis. The main difference between them and the COVID vaccine is that the latter is available under emergency use and hasn't been fully approved by the FDA, though the expectation is that those full approvals are on the way. Additionally, the other vaccines tend to target diseases that are severe in children, but COVID is less severe in kids than it is in adults.