Parents Probably Won't Get a Child Tax Credit in January
If you're one of the 35 million parents who got a cash payment on December 15, it might be your last for a while.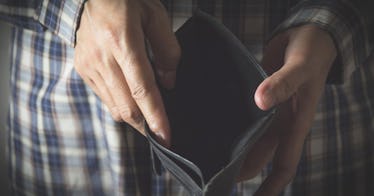 If you're one of the 35 million parents who woke up to find your December Child Tax Credit payment in your bank account this week, you should enjoy it while it lasts—it looks like it's the last one you'll receive. Yesterday, West Virginia Democratic Senator Joe Manchin effectively put the kibosh on any plans to extend the monthly payments in the near future.
Families began receiving the monthly payments in July as part of the Biden administration's American Rescue Plan. It's estimated that the monthly payments — which provided up to $1,800 for children age five and under and $1500 for children age six to 17 over the last five months — raised roughly 4.1 million children out of poverty. Though parents will get the second half of the cash payments at tax time — about another $1,800 per kid — resuming monthly payments are so far out of reach.
The move to extend the payments for at least one year was included in Biden's landmark Build Back Better act, which would provide an economic boost for the ailing middle class and bolster U.S. climate change action. For CTC payments to continue on schedule in the new year, the BBB act needs to pass the Senate by December 28th, but Manchin raised last-minute concerns about continuing the payments, all but assuring there is no way the Senate will meet the deadline.
CNN's Mau Raju reported that Senator Manchin was in favor of removing the CTC payments from the bill entirely, which the Senator later refuted, calling the report "bullshit" in a testy back and forth with a group of reporters. Manchin said his true concern was that Democrats would try to extend the payments every year, which would not represent the actual cost of the $3 trillion BBB bill. Instead, he suggested that Democrats ask for a 10-year extension in the name of transparency to the public.
With the Senate split down the middle with 50 sitting Republicans and 50 sitting Democrats, as the sole Democratic hold-out, Manchin could spell disaster for any hope of continuing the monthly CTC without interruption, putting those 4 million children at risk for falling back into poverty.
The Build Back Better Act would also ensure four weeks paid parental leave, two years of free preschool for children aged three and four, cut health insurance premiums for around 9 million people, and provide insurance for as many as 4 million people without health insurance. The act would also provide measures to increase access to affordable housing, decrease taxes for low-income workers, and expand access to at-home care for older Americans and those with disabilities.
Senate Democrats are busy drafting a new proposal to provide an 11th-hour extension for the CTC. Unfortunately, to work, it would require the cooperation of 10 Republican Senators, which many think is unlikely. On whether he thinks the last-minute measures will work, "I wouldn't hold my breath," remarked Senator Bernie Sanders.