The Staggering Cost Kids Pay for Parents' Opioid Prescriptions
In 2015, doctors wrote out more than 80 opioid prescriptions for every 100 residents in the state of Florida alone.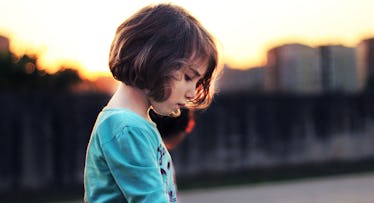 A new study published in Health Affairs this month highlighted another area the opioid epidemic has strained considerably: the foster care system.
In the state of Florida, researchers found that the rate of opioid prescriptions correlated positively with the rate of children removed from their family homes and placed in the foster care system due to neglect. The study, which was conducted by Dr. Troy Quast, a doctor and researcher at the University of South Florida, amassed data from a three year period between 2012 and 2015 and studied year over year increases in opioid prescriptions and their effect on home removal. From 2012 to 2015, in all 67 counties in Florida, there was a 129 percent increase of children being taken from their homes — a massive percentage increase that grew alongside a nine percent increase in opioid prescriptions.
The relationship between opioid prescription and parental neglect cannot be understated. According to the study, in 2012 alone, doctors prescribed 72 opioid prescriptions for every 100 people. That number dipped just 2.5 percent the following year, most likely because of a legislative push to make opioids harder to prescribe. By 2015, the number of prescriptions had nearly jumped by 10: 81.34 prescriptions for every 100 residents. Quast and his team found that for every 6.7 percent increase in prescription rates per 100 people, the percentage of children removed from their homes jumped over 30 percent.
If Florida were to be a marker for how bad the opioid crisis has become — and it's not, because many states have less of a problem and many states have a far more severe problem — the numbers on a national level are absolutely troubling. In the 2010 United States Census, the government reported that 73 million people living in the United States are under the age of 18. If, given what Quast and his team found in Florida, 2 out of every 1000 of those kids were removed from their homes, that would mean that in (very) rough numbers, nearly 146 out of 1000 children nationwide would be removed from their homes as a result of neglect or drug use.
The reality is that more and more children are being shunted into a system that is neither regulated enough nor prepared for any more people to take care of. This is coupled with the fact that fewer people than ever are becoming foster parents, and, for those who do, lack of organizational oversight frequently translate into severe child endangerment. Children in the foster care system are often shuttled from city-to-city, school-to-school, and home-environment-to-home-environment, making them fall behind in their classes. It makes it hard for children to feel stable, safe, loved, or emotionally healthy. If there's only one thing to take away from the study, it's that the opioid crisis doesn't just affect adults. It disproportionately hurts children.