Parent Wrongfully Arrested While Standing Up For Trans Kids
"This is not over and we will prevail."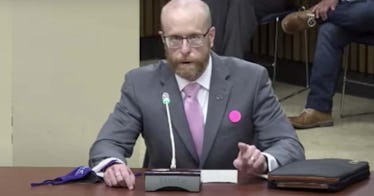 Parents of trans kids are angry. Amid dozens of anti-trans bills being introduced in committees and statehouses across the country — bills that would give doctors felonies for providing gender-affirming care, ban trans children from playing team sports in a dignified way that represents their identity, require children to get genital checks to play, would call parents who care for their children abusers — they are fighting back.
The bills, as anti-scientific as can be, will only harm children across the country, and when parents try to tell lawmakers that, apparently, they get arrested.
Indeed, in Arkansas, a state that just passed a series of anti-trans bills that will harm children and deny them medical care, a parent of a transgender teen was arrested after testifying against those bills in the Arkansas House. The reason? The speech went 30 seconds over the allotted 2-minute time.
Chris Attig, a parent who's raising a trans kid, spoke at the Arkansas House on March 9, 2021. Attig spoke to members in opposition to House Bill 1570, which aims to prevent trans minors under 18 years old from receiving gender-affirming care.
Attig explained how the bill, if passed, would prove to be disastrous and harmful to young people. Attig also stressed that the bill would also be economically harmful to the state. Still, the focus on their testimony was to stand up for trans kids.
"No matter what happens here today, you are loved," Attig said in the opening remarks. They chose to address the trans kids who may have tuned into the live stream to let them know they matter, adding, "you are loved."
When Attig's speech, which they were given 2-minutes for, crossed over the allotted time, the microphone was cut off by State Representative Jack Ladyman, who ordered Attig to cede the floor.
"Your time is up!" Ladyman shouted. Attig chose not to be silent and instead continued to read their prepared speech. After which Ladyman, who serves as the House Public Health, Welfare, and Labor Committee chair, ordered the State Capitol Police to intervene and remove Attig from the floor.
In an interview with them, Attig says after the hearing they were taken by State Capitol Police and taken into custody at the jail. Attig spent several hours there before being charged with disorderly conduct and released.
Attig was arrested for going 30-seconds over a 2-minute speech.
"It was just shocking sitting there in jail thinking that this is what happens when you speak to people about how their proposed laws are affecting your children," Attig said to them. "They don't want to hear it. They put you in jail."
What makes this arrest extra frustrating, if it isn't there for you enough, while Attig went 30 seconds over his two-minute speech, supporters of HB 1570 were given much more time to speak.
The lobby groups who spoke at the hearing to spout why they support the anti-trans bill were allowed as much as 40 minutes to speak without interference.
It was only people who spoke in opposition to the bill who were facing limited time. Lawmakers were not even trying to hide how biased they were. And that's very unsettling.
"Can my son walk from his apartment to our house safely?" Attig wondered. "Can he go out and do the things that he wants to do, to enjoy his life without worrying about the worst things happening? Whether or not these laws are targeted at somebody above or below the age of 18, the singular message that they send is it is OK to bully and persecute people who are trans."
And Attig is determined to push forward and continue to fight for the rights and lives of all trans people. "We are fighting for them," Attig says. "This is not over and we will prevail."