How To Watch Adorable Pandas At The Smithsonian Zoo Play In The Snow
The pandas at the Smithsonian Zoo are having a great snow day.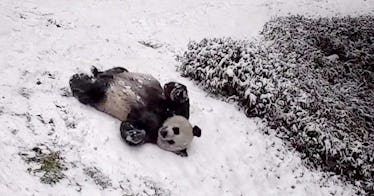 Smithsonian
The East Coast and much of the United States have entered February of 2021 by being dumped on with what could amount to several feet of snow and many kids home from school. For some, this is great news (AKA kids who still have snow days despite the fact that the United States is now pretty remote learning capable) and for others (their parents) the development is not so fun. But for the padas Mei Xiang and Tian Tian at the Smithsonian Zoo, the snow day is much appreciated, and even a chance to blow off some steam. Or at least, that's what appears to be the case in a viral video of the two pandas playing around in the snowy isles of the zoo in Washington, D.C.
For eagle-eyed watchers of the Smithsonian live cams — cameras set up at several of the exhibits at the Smithsonian Zoo, especially including the panda habitat — the chance to watch a couple of pandas frolic in the snow couldn't be missed. And while the Smithsonian live stream is still up and running (and, dare we say, a good way to pass the time as you're stuck inside in between bouts of snowball fights) and there's plenty of opportunities to keep an eye to see if the pandas get into their own snowball fights, the Smithsonian Zoo has stepped in to make things easier. They edited a minute-long clip of the pandas slipping, sliding, and using their bodies to sled in the enclosure. They are rolling about and having a great time in the weather and it's really too cute to be missed.
That being said, a single minute-long clip is just not long enough. If you want to keep an eye on the live-stream, make sure that you go to the Smithsonian website and toggle between both cameras. As of the morning of February 1, it appears that at least one panda is taking a nap… but if you watch closely, another one is pawing around in the snow, ready to have some wintry fun.
This article was originally published on