6-Year-Old Girl Skating Prodigy Goes Viral On Twitter
"12ft bowl in her party dress!"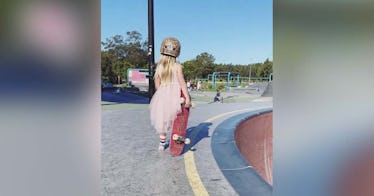 It's always fun when our kids find what they're passionate about. Being able to foster the hobby, sport, or subject they excel in is a true joy. And we're sure the parents of this 6-year-old are over the moon their daughter found what makes her heart sing. She's a true skating prodigy, and she's going viral on Twitter over her impressive skills. Meet Paige Tobin.
Paige is a 6-year-old Australian who doesn't look like the typical skateboarding fanatic. In one of her recent videos that have gone viral, she's decked out in a pink tulle party dress, rainbow-striped socks, and a leopard-print helmet. Certainly not the typical attire of a skateboarder about to drop into a 12-foot bowl. But she is, and she makes it look so effortless.
In her recent viral video, the young lady fearlessly stands at the top of the 12-foot drop. Without skipping a beat or showing any hesitation, she nails the drop, better than many grown men can do. She's commanding the whole bowl, and you really get a sense of how young she is when the video switches to a wide shot, and we can see just how small she is. But, it's her unwavering confidence that makes this video, and this young lady, something really special.
The video was posted to her Instagram account, where 160,000 follow her to see all her incredible tricks. The video, which features the perfect song by Pink, has more than 1.1 million likes. But it's also been shared across social media. Some videos have been posted to Twitter, where they've tallied more than 3.5 million views.
This isn't the first time Paige Tobin has gone viral. Paige has been sharing videos of her skateboarding skills since 2018. She had another video go viral on Instagram in Sept. 2020 when she was 5 years old.
Something tells us this isn't the last we will see of her. And that's really exciting!
This article was originally published on