The First Large-Scale Paid Parental Leave Policy For Restaurant Workers Is Coming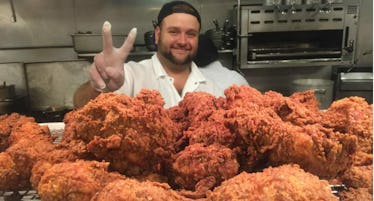 Facebook / Blue Smoke
At this point it would be understandable if you were experiencing some paid parental leave fatigue. You've heard it so many times that by now it sounds like a bad street joke: What do the U.S. and Papua New Guinea have in common? They're the only 2 countries that don't guarantee paid maternity leave (and don't even get them started on paternity). In lieu of that, individual businesses are forced to pick up the slack, or in the case of Danny Meyer, pave the way for working moms and dads. The restaurateur and father of 4 is offering parents in service industry paid leave, so if you're laughing it's likely because you already work for him.
Staring January 1, 2017, all full-time employees working in the front and back of the house with more than one year of employment will be entitled to 100 percent of their base wages for the first 4 weeks after their child is born or adopted. Parents are offered 60 percent of their wages an additional 4 weeks after that, allowing them up 8 paid weeks to recover, bond with their new babies, and take full advantage their employee discount on dinner (carry-out, of course), among other things. From dishwasher to manager, everyone who meets these requirements employed in any of Meyer's Union Square Hospitality Group restaurants — Gramercy Tavern, The Modern, Blue Smoke, and many others — can reap the benefits.
Unfortunately, the policy does not include the CEO's popular burger chain Shake Shack because it became its own company in 2015. Fortunately, they're still raising the bar for fast-food worker pay and benefits and may not be far behind — not that you need a socially responsible reason to binge on ShackBurgers. Interestingly this comes almost exactly a year after Meyer made headlines for getting rid of tipping all together, so now you have 2 good reasons to buy him a beer … or a least visit one of his restaurants the next time you're in NYC.
[H/T] The Eater