82 Percent Of Americans Want Paid Family Leave. What's The Wait?
More people than ever support paid family leave – so where is it?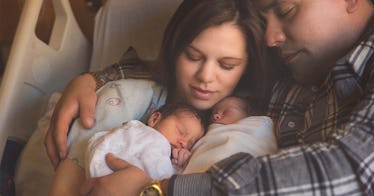 Ask any new parent who lives in one of the many wealthy nations across the globe, other than the United States, and they'll tell you how important paid family leave was in helping to shift to their new role as a parent. Whether it was from adopting a child, giving birth to one, or supporting a partner who just gave birth, paid family leave is a nearly universally enjoyed benefit of people across the world, with the exception of one of the wealthiest countries in it. And it's a terrible shame.
Paid family leave is linked to better health outcomes for mom and baby, better relationships between parents and their children, and more job and financial security. Even still, an overwhelming majority of Americans support paid family leave than ever before – which begs us to ask the question: Why isn't paid family leave federal policy yet?
Paid Parental Leave Is Nearly Universally Supported
According to The Conversation, a poll of 21,000 people conducted by YouGov between March 25 and April 1, 2021, shows that 82% of Americans believe employees should be able to take a paid maternity leave. And while states have attempted to step in to fill the gaps, federal policy is needed.
This isn't the first time a large-scale poll has shown similar results in favor of federal paid leave. Other studies have continuously shown that "at least 80% of Americans support paid maternity leave." Companies have also urged the government to pass the policy. This overwhelming consensus among citizens, which also asks for paid leave for a death in the family or taking care of a sick relative, has a level of support that should help see it become a reality.
We Had Temporary Paid Leave During COVID Crisis
On top of the people's wishes for the leave, the government has shown its support for similar programs, too. Including when former President Trump signed into law temporary leave in the COVID-19 stimulus package. The bill gave paid leave to people who need to take care of a sick family member.
And it's currently one of the points included in the American Families plan proposed by current President, Joe Biden. Under his plan, if passed, will mandate partial wage replacement for things like taking time off after a new baby, both maternal and paternal leave, taking care of a sick loved one, time away while grieving the loss of a loved one, or bonding time for a newly adopted child for up to 12 weeks.
With all this support for paid family leave, why hasn't it happened yet?
Just because it hasn't happened yet doesn't mean it won't — but the paid leave plan, as part of the American Families Plan, faces an ideological uphill battle in congress.
The plan includes $225 billion for childcare, $225 billion for paid family and medical leave, and $200 billion for federal universal pre-K. That's incredible, and it would have an amazingly positive impact on American families. It's likely going to have some struggle getting passed.
According to The Washington Post, it's likely going to be hard to pass. "Republicans are already making it clear this Biden proposal is a non-starter for them. They don't like the big price tag of the bill, they don't like how much it expands government, and they don't support raising taxes, especially not ones that were just cut in their 2017 tax law," the publication reports.
And that's where the wait lands – in Congress. It's a massive plan, and it's likely to be held up for some time thanks to political bureaucracy and not necessarily putting American families and their needs first.