What the F$&#: Biden Says Paid Family Leave Plan Has Been Cut to 4 Weeks
"The reason it's down to four weeks is I can't get twelve weeks," Biden says.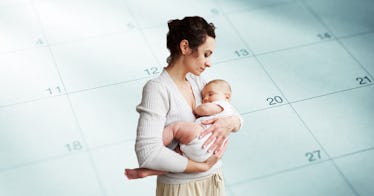 Americans have been hopeful that the new administration would follow through with plans to make the lives of Americans better. One of the more significant proposals from the Biden administration was the paid family and medical leave plan, which would have provided nearly all American workers — for the first time — with the ability to take up to 12 weeks off for paid family or medical leave with a progressive wage replacement plan.
The federal plan would have been the first of its kind, a ground-breaking and necessary change, and 12 weeks was a great amount of time for people welcoming a baby or for those struggling to care for an ailing family member. But last night, President Biden, unfortunately, confirmed that plan has now been whittled down to just four weeks.
According to The Hill, Biden confirmed that the paid family and medical leave plan would be considerably less than the 12 weeks it was hoping for. "It is down to four weeks," Biden said during a CNN town hall when asked about the proposed program. "The reason it's down to four weeks is I can't get twelve weeks."
The paid leave provision, which was part of the proposed Biden's crucial Build Back Better Plan, has been stuck in an ideological uphill battle in congress. Republicans from the very beginning have been vocal in stating they won't support the Build Back Better plan.
With Republicans very unlikely to change their position, Biden would need the support of all 50 Democratic senators—which he doesn't have. Per The Hill and other outlets, Senators Kyrsten Sinema and Joe Manchin have fought the overall price tag of the plan and have fought to cut the social spending package down. And now, the paid leave plan seems to have been a victim of the compromising.
All of this is despite the fact that a comprehensive paid family and medical leave plan has bipartisan support and the support of big businesses across the country.
So, the compromise seems to be four weeks instead of 12. But, again, this is less time than a person typically needs to heal after birth – which is roughly six weeks at minimum. And either way, it's just a month after adopting a child, giving birth to a child, or just a month to take care of someone who may have longer-term care needs. It's simply not enough.
And while this plan is better than no paid leave at all, especially if it's permanent, there's no question that this compromised proposal will disappoint working families and lawmakers who have been advocating for better policies.
Unfortunately, the paid family and medical leave plan aren't the only ones to get chopped from the original plan. Biden confirmed that the package going forward is not going to include his proposed tuition-free community college. But he insisted that he's still working on that, too. "We're going to get free community college in the next several years," Biden said.
This article was originally published on