Over Half of Millennials Fear Their Money Won't Last Long – But There's Hope
Despite a series of economic setbacks for millennials, there's actually hope for their future. Here's why.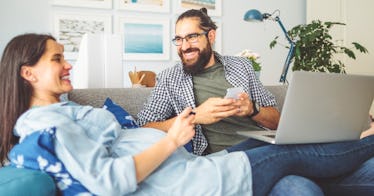 Eva-Katalin / Getty Images
Millennials, to put it quite lightly, have had a rough go of things economically since graduating college and entering the workforce. Two recessions, skyrocketing inflation, wage stagnation, monumental financial barriers to homeownership, and an unprecedented student loan debt crisis have — for good reason — colored how the generation sees their financial security and future.
A recent report from the Morning Consult State of Consumer Banking and Payment Report found that Millenials are more concerned about their ability to achieve their goals in life because of their burdensome financial situation. The so-called "lost generation" also perceives that their financial situation is more precarious compared to other generations.
What do the Numbers Say?
According to the report, 38% of millennials feel like they're behind on their finances, compared to only 35% of other generations. And 52% of millennials are concerned that their money won't last, compared to 46% of other generations with the same concern.
The financial well-being score, which is a subjective measurement of consumers' financial security and choice, is lower for millennials than for other generations as well—47.8 for millennials and close to 51 for other generations.
Why Are Millennials So Bummed About Their Money?
On average, millennials have a lot less wealth than their parents did at the same age. Moving into the workforce during a time of historically low wages and a depressed job market scarred their earning potential from the get-go, and it's been a slow recovery for many millennials. During their late 20s and mid to late 30s, prime wage-earning years, many millennials were scrabbling for employment on the tail end of the Great Recession and during the Covid recession.
The median net worth for older millennials is around $91,000, but it's important to remember that net worth isn't the amount of cash you've managed to sock away — it's a calculation based on all the assets you own minus your debt and liabilities. While $91,000 may seem like a lot when compared to other generations, it's really not that much. In contrast, the median net worth for Gen Xers aged 45-54 is around $168,600.
Crushing student loan debt is also on their minds. The average loan debt for millennials is around $38,000 per person. While not the highest average student loan debt for a generation (that honor goes to Gen X with a whopping average of around $45,000 per person), more millennials are carrying student loan debt than any other generation —close to 14 million millennials have student loan debt.
Coupled with rising costs for everything from health care to ham sandwiches and everything in between, millennials, who've had less opportunity to build their wealth than previous generations at the same age, aren't wrong to be a little upset about their financial outlook.
Is There Financial Hope for Millennials?
Things are looking up economically for the country after the Covid pandemic, but millennials are still feeling the burn. Research has shown that those who enter the workforce during times of economic downturn can face up to 15 years of decreased ability to earn. And since wealth has a marked impact on health, happiness, and mortality, millennials may have a long road ahead of them.
But all hope is not lost. millennials who are doing well are, by and large, doing very well. Millennials born in the 1980s are the only generation at or beyond pre-Covid employment levels and are gaining wealth at higher levels than earlier in the last decade.
This article was originally published on