Parents Are Seriously Worried That Kids Lack a Sense of Imagination, Survey Says
Of the parents polled, 72 percent believe their kids don't go outside enough, and 55 percent are worried their kids don't have a strong sense of imagination.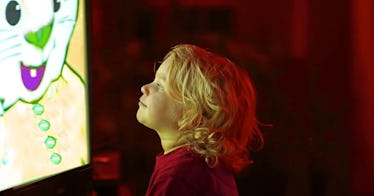 There's this idea out there that our kids don't play outside anymore in the parenting circle. We hear parents talk about how they can't get their kids off their screens to go sit in the sun or run around the neighborhood. And a new survey is showing that the concern parents are having is growing. A large majority of parents are worried that their kids aren't spending enough time outside. Here's what we know.
A new survey conducted by OnePoll on behalf of Claritin highlights these concerns that parents have. In a survey of 2,000 American parents who have kids between the ages of 5-13, parents polled worried that their kids lack the imagination to make the most of the outdoors.
"Only 9 percent of parents say their kids are not curious about the outdoors," the survey results show. "But one in two parents worry their kids don't have the same level of imagination that they did in their own youth."
Looking deeper into the numbers from the survey, 72 percent of those polled "believe their family doesn't go outside enough" even though 63 percent of parents say their kids "seem to be happy after playing outside."
Fifty-seven percent of parents said they frequently encourage their kids to play outside. However, 49 percent say their kids are bored out there. Adding to that, parents say 48 percent of kids can entertain themselves for just 30 minutes or less before they're bored.
Close to half (48 percent) of parents admit that they try to trade TV or computer time for outdoor play, and 55 percent of parents "worry their kids don't have the same level of imagination that they did in their own youth." Sixty-seven percent of parents blame technology for the differences.
The poll also aimed to find out why kids are staying inside, other than being bored. It sounds like it's a mix of the outdoors' conditions (like allergies or inclement weather) that keeps families indoors the most; 23 percent of parents say the lack of friends to play within the area has an impact, and 20 percent say a lack of space outdoors is another factor keeping kids from getting time outside.
According to Stanford Health, there are many benefits of playing outside for kids including social and emotional development, an increase in attention spans, an improvement of sensory skills, and an overall increase in happiness. While many parents who took part in the survey said the pandemic has seen an increase in kids playing outside, it's clear we could be doing more to help kids go play make-believe in the great outdoors.