These Are the 8 Best Tributes to Virgil Abloh
The fashion trail blazer passed away at the age of 41.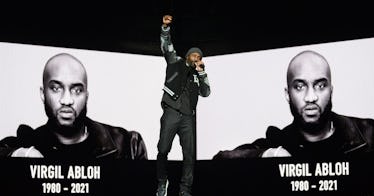 GETTY
Virgil Abloh, the founder of Off-White and the Men's Artistic Director for Louis Vuitton, died on Sunday at the age of 41 due to cancer.
The news shocked the public, as Virgil kept his condition private. He reportedly was diagnosed with cardiac angiosarcoma, a rare form of cancer, back in 2019 and took some time off based on the recommendation of his doctor.
Virgil was beloved and widely considered a trailblazer in the world of fashion. While interning at Fendi in Rome in 2009, he met Kanye West, who was quickly enamored with Virgil's impeccable taste and forward-thinking sense of style. West invited Abloh to be the artistic director of the 2011 album Watch the Throne and from there, he skyrocketed to become one of the biggest names in fashion.
In 2013, he founded Off-White, which quickly become one of the most sought-after labels in the entire world. And in 2018, Virgil was invited to become the first person of African descent to lead Louis Vuitton's menswear line, helping the brand undergo a reboot to maintain its relevancy.
As he rose through the ranks of fashion, Virgil became a go-to name among the biggest stars in the world and many of his collaborators offered tributes to the fashion icon online following his death.
Pharrell
Timothee Chalamet
Justin Bieber
Frank Ocean
"My family was proud of you like you were our family. I know grief is love that you don't get to express so this is an attempt at expressing it. Love you V. You're a hero."
LVMH CEO Bernard Anault
"We are all shocked after this terrible news. Virgil was not only a genius designer, a visionary, he was also a man with a beautiful soul and great wisdom. The LVMH family joins me in this moment of great sorrow, and we are all thinking of his loved ones after the passing of their husband, their father, their brother, or their friend."
Bella Hadid
BTS
Marc Jacobs
Virgil Abloh is survived by his wife Shannon and his two kids, Grey and Lowe.