Omicron Cancels Dozens of New Year's Celebrations (Yours Included)
Here's why you should consider staying home this New Year's Eve.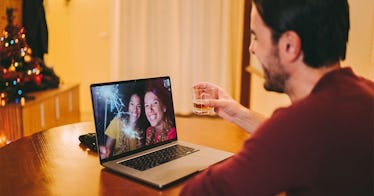 martin-dm/Getty
If you were looking forward to a night out on the town to ring in the new year, you might want to rethink those plans. Cities around the country have either canceled or downscaled their planned New Year's Eve celebrations in light of new records being set in Covid-19 infections due to the Omicron strain. Public health experts are urging people to follow suit, and skip even personal NYE parties.
Cities Are Cancelling Their Massive Celebrations
Back in November NYC Mayor Bill de Blasio announced that the legendary Times Square New Year's Eve celebration would go on, a heavily advertised event that he walked back last week. The event will still take place, but instead of "Crowds will be kept to 15,000 people who must be fully vaccinated and masked. DeBlasio said the new ground rules would "keep the fully vaccinated crowd safe and healthy as we ring in the New Year." Also, LL Cool J will not be performing, as he has contracted the virus.
New York City isn't the only city downsizing or outright canceling its celebrations. Atlanta officials announced that the Peach Drop, the city's 30-year-long NYE tradition, would not occur this year.
Seattle officials still plan to launch fireworks from the top of the Space Needle, but they're implementing special effects that will only be visible from television and live streams in an attempt to encourage revelers to enjoy the celebration from the comfort of their own homes.
San Francisco officials canceled their celebration while Mayor Landon Breed encouraged residents to "…remain vigilant in doing all we can to stop the spread of the Covid-19 Omicron variant."
Individuals Should Consider Scaling Back Their Plans
In light of the rapid spread of the Omicron variant, public health officials recommend skipping out on large gatherings and public parties. If you must gather, opt for smaller, more low-key celebrations.
Anthony Fauci, the nation's top infectious disease expert, is encouraging people to skip the big New Year's Eve celebrations this year. "When you're talking about a New Year's Eve party where you have 30, 40, 50 people celebrating, you do not know the status of their vaccination, I would recommend strongly: Stay away from that this year," Fauci told CNN. "There will be other years to do that, but not this year."
The Centers for Disease Control also recently shortened recommended quarantine time for some people. Instead of the 10-day isolation we've all become familiar with, the new timeframe is 5-days for those who've tested positive but aren't showing symptoms and those with no fever and lessening symptoms.
If watching the ball drop from the comfort and safety of your own living room isn't in the cards for you, there are steps you should take to enjoy New Year's Eve safely with others.
Opt for a small gathering. The fewer people you are with, the better.
Even if you are vaccinated, get tested for COVID-19, or make sure you have isolated for COVID-19, before attending any events to ensure you won't be inadvertently spreading the virus to other revelers.
Wear a mask.
Keep the party outdoors. Avoid indoor spaces where social distancing isn't possible and the air doesn't circulate well.
Ventilate. If you must party indoors, try to choose a venue with adequate air ventilation. Open all your windows and set up fans to circulate air.
If you're hosting, ask that all attendees are fully vaccinated and boosted.