Try Not to Cry Watching Olympian's Airport Reunion With His Toddler
"Wow it feels good to be home."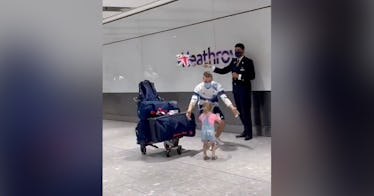 British Athlete Max Whitlock returned to the United Kingdom after winning the third gold medal of his remarkable career, and the gymnast received a heartwarming hero's welcome, as his wife Leah and daughter Willow surprised him at the airport.
A video Whitlock shared on Twitter shows him walking through Heathrow Airport just after landing when Willow runs towards to give him a gold medal hug. It's an absolutely adorable reunion and the video quickly went viral, as it has been viewed almost two million times since it was uploaded on Wednesday.
"What an amazing surprise, my family kept it a secret so I didn't think they were meeting me at the airport!" Whitlock wrote as the caption for the clip. "Wow it feels good to be home."
One of the most difficult parts of this particular Olympics for a lot of athletes has been that they were not able to bring their families along due to the ongoing COVID pandemic. While there were certain exceptions made for breastfeeding parents and their children, for the most part, parents were forced to leave their spouses and children behind as they competed in Tokyo. This type of reunion is likely going to happen all around the world over the next few weeks, as athletes return to their families.
Tokyo was the third Olympics of Whitlock's career and he won the gold medal for the pommel horse with a score of 15.583, defending his title from 2016. He chose not to participate in the floor exercise, where he also won gold in 2016, or the all-around, where he won bronze in 2012 and 2016, to focus on the pommel horse.
The 28-year-old dad now has six Olympics medals over the course of his impressive career as a British gymnast, along with winning the gold medal for the pommel horse at the World Champions in both 2015 and 2019.
This article was originally published on