Olympic Gymnasts Will Testify to Congress About Nassar Abuse
As part of a probe into the FBI's inaction on allegations against Nassar.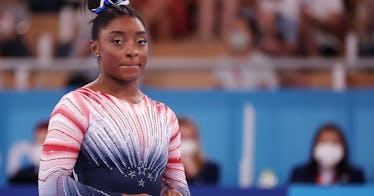 GETTY
Olympic-level gymnasts Simone Biles, McKayla Maroney, Aly Raisman, and collegiate level gymnast Maggie Nichols have agreed to testify before the Senate Judiciary Committee on Wednesday morning on the FBI's failure to act when notified of former USA gymnastics coach Larry Nassar's sexual abuse of gymnasts.
A mid-July FBI report found that the FBI's Indianapolis office mishandled and delayed the arrest of Larry Nassar even after being notified that he was abusing gymnasts. In fact, the report claims the FBI, and in particular senior officials within the Indianapolis office, didn't take the allegations seriously enough and failed to stop Nassar when they knew there were many allegations against him.
The FBI "failed to respond to the Nassar allegations with the utmost seriousness and urgency that they deserved and required, made numerous and fundamental errors when they did respond to them, and violated multiple FBI policies," the report in July reads.
The FBI didn't begin to take action against Larry Nassar until the Indianapolis Star published investigative reporting in September of 2016 about his actions; more than a year after USA Gymnastics approached the FBI with allegations.
The report claimed that this inaction led to at least 70 more young athletes being sexually abused by Larry Nassar during the delay — but lawyers for the victims say the true total could be as high as 120 more victims, and one as young as eight years old. The FBI not only delayed their investigation into the allegations but also attempted to cover up their delay.
Now, prominent victims of Nassar — Raisman, Maroney, Biles, and Nichols — will testify to the Senate alongside FBI Director Christopher Wray and Department of Justice Inspector General Michael E. Horowitz.
Since the allegations against Nassar were made public — and over 100 gymnasts publicly testified against Nassar at an open hearing — many former USA gymnasts have not been shy in how they feel about the support, or rather lack thereof, that USA Gymnastics gave them.
Simone Biles famously said that she wouldn't let her children go into USA Gymnastics because of the lack of protection and the level of cover-ups the organization engaged in February of 2021; in July, Mckayla Maroney referred to USA Gymnastics as "abusers" that used athletes "for money, but didn't care to protect us."
In 2018, Aly Raisman sued the US Olympic Committee and USA Gymnastics saying that they should have prevented Nassar from sexually abusing her and the dozens of other victims of his crimes. Her lawsuit alleges that 500 other people could have intervened against the abuse. "It has become painfully clear that these organizations have no intention of properly addressing this problem," Raisman said in 2018.
In early September, USA Gymnastics proposed a $425 million settlement to the survivors of Nassar after filing a $215 million offer in 2020 that was rejected by the survivors of his abuse.
On Wednesday morning, the brave gymnasts speaking out will discuss the FBI's inaction.