Listen To This: 'The Office' Theme Song Remixed as a Retro Hip-Hop Anthem
Now this is some chill music to study to.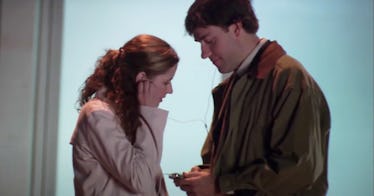 For the perennial fans of the best YouTube music video of all time — that is, the entire genre of videos on YouTube that are some iteration of "lofi hip hop mix – Beats to Relax/study to" or "lofi hip hop radio – beats to sleep/chill to," of which there are dozens and dozens of mega-popular iterations of, there's a new chill hip hop lo-fi video in town. And for mega-fans of The Office, the critically acclaimed sitcom that made workplaces seem, well, fun, the video might align all of their possible interests into one super chill, super lo-fi, super hip hop video to chill and or study to. That video? It's an Office theme song remix, released by NBC.
The theme song — which is decidedly not hip hop or lofi — has been re-tooled to become the perfect music to work, write, or study to. And, courtesy of NBC, the hour-long track is illustrated with clips of the beloved television show, so shots of the whole gang having goofs, laughing, making okes, and being overall nice to one another and having great, heartwarming moments accompany the music.
Plus, the occasional gag — like when Pam figures out that Michael is dating her mom — are part of the song, making it a trip down memory lane, but not one that's too distracting, either. It is, quite frankly, a deserving entrant into the already crowded YouTube genre of chill lofi hip hop beats to study to. And while it's absolutely the Office theme song — it's unshakeable — it's really relaxing. Nearly zen. Enjoy it!
This article was originally published on