Man's Coworkers Threw Him Birthday Party at the Office. He Sued For $450,000
When people say they don't want a party, maybe they're serious?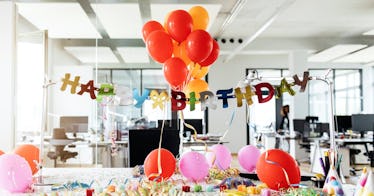 Credit: Getty
A man in Kentucky won a $450,000 lawsuit against his former employer after he was fired for his response to a surprise birthday party that he claims he never wanted. But how does an office birthday lead to a nearly half-million-dollar lawsuit? It seems like the plot of an episode of The Office, but this is very real.
Kevin Berling asked Gravity Diagnostics, the company he was working for, not to do anything to celebrate his birthday because he suffers from anxiety, which can lead to panic attacks. But the office manager forgot about his request and a surprise party was thrown for him at lunch, which caused him to have a panic attack. Berling quickly left and finished his lunch in his car before texting his manager that he was upset that the party was thrown despite his request.
The next day, Berling was called into a meeting where, according to the lawsuit, he was "was confronted and criticized" for his response to the party. This sparked yet another panic attack and Berling was sent home. A couple of days later, he received a letter letting him know he was being fired from his job "because of the events of the previous week."
In response to his termination, Berling sued the company, alleging disability discrimination and retaliation. And on March 31, a jury awarded him $450,000, agreeing that Berling faced "adverse employment action" due to his anxiety.
Gravity Diagnostics Founder and COO Julie Brazil told Kentucky news website Link NKY that the company "stand[s] by our decision to terminate the plaintiff for his violation of our workplace violence policy."
"My employees were the victims in this case, not the plaintiff," Brazil claimed, while also explaining that the company is planning to challenge the verdict due to the "discovery of juror misconduct violating trial judge's orders, and then an appeal if necessary."