These Rams Players Skipped the Super Bowl Celebrations To Have Babies
"I got three prizes today — my wife, my son and the Super Bowl."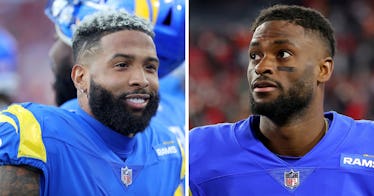 Icon Sportswire / Contributor / Getty Images; Kevin C. Cox / Staff / Getty Images
It was a big weekend for people who love to watch football. Whether you were watching to cheer your football team on, root for an underdog, or dance nostalgically with your aging hips to the halftime show, it's an event many look forward to. For the players on the field, their minds are absolutely zeroed in on winning the game, hoping to bring glory back for their team. But for two players on the field, their focus was in two places as the biggest night of their careers also came with the possibility of welcoming a baby into the world, too.
Odell Beckham Jr. is a wide receiver for the Los Angeles Rams, and this weekend was his first appearance in the Super Bowl. As expected, he was excited – it was a big night in his career. But adding to the excitement of it all was the fact that he could also become a dad at any moment. Odell's girlfriend, Lauren Wood, is pregnant with their first baby and due any minute – and while on the field, he was worried he'd miss the birth.
"I don't need you to put that energy in the air about the Saturday night or the Sunday thing," he said, according to The New York Post. "I think God has a different plan. I don't need it during the Super Bowl. I want to see my child being born, so I'm on watch."
Odell continued, telling Associated Press, "Literally my phone is right here just in case, so I'm on call. I'm on watch. I'm on standby."
Thankfully, the baby didn't arrive early but the same can't be said for Odell's teammate Van Jefferson. He, too, was playing in the Super Bowl while his wife, Samaria Jefferson, was in the stands, pregnant with their second child. She was officially due on February 17, but while cheering on her husband, Samaria went into labor – right there.
"I'm pretty sure I just saw Van Jefferson's wife leaving the stadium on a stretcher about to have their baby," NFL reporter Bridget Condon shared on Twitter. "Talk about dedication."
It turns out it was Samaria – another reporter confirmed that the moment the game ended, Van grabbed their 5-year-old daughter and ran through the stadium to try and be with his wife while their second baby was born.
The football star shared a photo to Instagram Story not long after he was seen rushing out of the stadium. The picture confirmed his little babe was born, showing him holding his newborn while laying in bed.
"It was a great day, bro," Van said on Instagram Live, according to ESPN. "I got three prizes today — my wife, my son, and the Super Bowl."