Tesla Price Cuts Mean Now Might Be The Best Time To Buy That EV
The price of the Tesla Model Y just dropped below the price of the average new car in the U.S.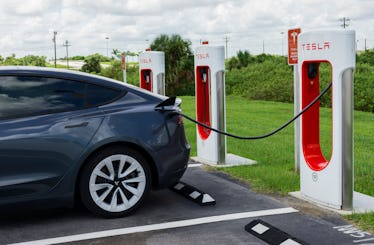 Alexander Lyakhovskiy/iStock Unreleased/Getty Images
If you've been on the fence about switching to an electric vehicle (EV) — and specifically buying yourself a Tesla — right now might be the best time to make a move. The price of the Tesla just dropped again, making one model lower than the cost of the average U.S. vehicle.
According to CBS News, Tesla cut the starting price of the popular Model Y for the first time in January, following slowly dipping stocks and sales. More recently, the starting prices of both the Model Y and Model 3 vehicles were cut again, making the Model Y $759 less than the average new vehicle in the United States.
The base price for a Model Y is now $46,990, and the differential in price "has changed by more than $20,000 since the middle of last year," Bloomberg notes. "No carmaker has made such a dramatic reduction to a high-volume vehicle in the modern age of the automobile."
Meanwhile, the Model 3's cost has dropped from $41,990 to $39,990 as of mid-April. The Model 3 was reportedly cheaper in 2019 — but the recent cuts mean the car is cheaper than it was earlier this year.
Both the Tesla Model Y and Tesla Model 3 qualify for the new, revamped federal EV tax credits, though to varying degrees.
The EV tax credits are a part of the Inflation Reduction Act and offer a tax credit of up to $7,500 for the purchase of a new qualifying electric vehicle for those who make under a certain income. The Tesla Model 3 Performance qualifies for the full tax credit of $7,500, but the Tesla Model 3 Standard Range Rear Wheel Drive only qualifies for the partial tax credit of $3,750. Every Model Y type — including All-Wheel Drive, Long-Range All Wheel Drive, and 2022 Performance — qualifies for the full tax credit of $7,500, per The Verge.
A recent report showed that 14% of American drivers said they would "definitely" buy or lease an EV today, which is up by 4% from the previous year's report. Plus, several other reports found EVs are cheaper to buy and maintain in nearly every state than fossil-fueled vehicles — and this held true even with the higher sticker price of an EV.
If you're in the market, check out our list of EVs that qualify for the $7,500 federal EV tax credit and those that qualify for partial credit for 2023.