'No Time To Die' Should Debut Straight to Streaming
I would pay $20 bucks to watch this movie on my laptop right now. I can't be alone.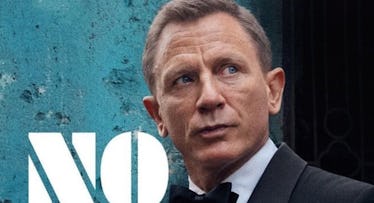 Credit: MGM/SONY/EON
Bad news for James Bond fans. It looks like the hotly anticipated final Daniel Craig 007 film — No Time To Die — will take a little more time getting to theaters than we all thought. Originally slated to be released on April 10, 2020 (next month!) the powers-that-be at Bond have decided to push the theatrical release all the way to November 2020. The primary reason? No Time To Die is an international film, and, because of the current fears about coronavirus, the movie studio and the Bond producers don't want to encourage people to movie theaters and get sick.
The announcement came very quickly, and seemingly in response to several online campaigns urging for a delay in releasing the film. The official 007 Twitter account relayed the news saying the decision was based on the "evaluation of the global theatrical marketplace."
But here's the thing. If No Time To Die is going to be delayed until November, why not just skip the theaters altogether, and get this sucker on streaming or digital download? How many people (read: dads like me) would pay 14 to 20 dollars to watch No Time To Die on our laptops right now? I bet the answer is, a lot. A lot of people would do this. We love Bond movies that much. And right now, this movie would be a comfort.
Look, I'm not trying to take money away from the Bond producers, or somehow diminish the prestige of a theatrical release, but to me, in the face of a global pandemic like coronavirus, the escapism that a James Bond movie would provide would be very welcome. As a parent, I totally agree with the idea that people should be cautious, and delaying a theatrical release of Not Time To Die is a reasonable move.
But dammit. I'm a busy dad and I barely get to the movie theater anyway. And, I'm not saying I don't want to see No Time To Die in the theater. I do. I have really good memories of seeing every single Bond movie in the theater since Goldeneye in 1995. I was 14. So, pretty much since I was barely old enough, I've been watching Bond movies in the theater.
That said, I began younger, with VHS and marathons on TBS. So, it's not like I won't watch a Bond on a small screen. In fact, I've found as a father, that watching Bond movies streaming on my phone is really therapeutic and similar to the experience of reading the Fleming novels. It's a familiar form of comforting escapism that fits in my pocket or sits on my lap.
In a recent interview with Variety, Bond movie boss Barbara Broccoli was asked point-blank if Bond movies could ever become streaming-native. Here's what she said:
"We make these films for the audiences…We like to think that they're going to be seen primarily on the big screen. But having said that, we have to look to the future. Our fans are the ones who dictate how they want to consume their entertainment. I don't think we can rule anything out, because it's the audience that will make those decisions. Not us."
There you have it. They could do this! I think I speak for a lot of dad (and mom) Bond fans out there. We're cool if you release this one straight to streaming. We're ready for it. And we're willing to pay for it.
This article was originally published on