Nikola Jokić Says Fatherhood Doesn't Make Him A Better Ball Player
But it does give him priceless perspective.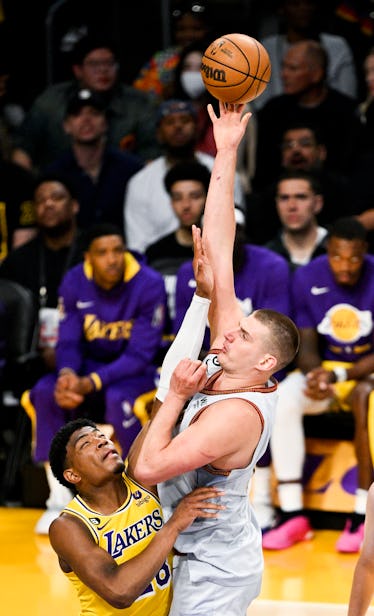 Gina Ferazzi/Los Angeles Times/Getty Images
All eyes are on Nikola Jokić this 2023 NBA season, and the spotlight is only getting brighter as he and his fellow Denver Nuggets continue to dominate the playoffs. They just ran through the Los Angeles Lakers and are about to head into the NBA finals — a first for the Nuggets — to take on the Miami Heat.
In a recent post-game interview, reporter Katy Winge asked Jokić if being a dad makes him a better basketball player. He and his longtime partner Natalija Mačešić welcomed a daughter in September 2021, Ognjena, and she's been cheering her dad on in the stands for a few of his most recent games.
Jokić's answer to the reporter's question, seen in the clip below, was equally frank and hilarious. He simply replied: "Nah, that cannot help you." Winge posted a video of the interaction on Twitter.
Although that may sound dismissive, Jokić did elaborate a little bit more, adding that while basketball hasn't given him on-court skills, having a family helps put everything into perspective for him.
"I knew that even before that basketball is not (the) main thing in my life and probably never gonna be," Jokić shared. "And I like it because I have something more at home that is more important than basketball."
Earlier this month, Jokić's daughter and Mačešić were in the crowd cheering him on as his team won Game 2 against the Phoenix Suns. The cameras caught an adorable interaction between Jokić and Ognjena at the end of the game.
Before walking into the tunnel after the game ended, Jokić stopped to wave at his daughter. It looked like Ognjena pointed to her ring finger, which, according to Sports Illustrated, was a nod to his first league championship. Jokić responded by pointing to his ring finger before entering the locker room.
So, although having a kiddo at home might not make it easier, per se, to be a two-time MVP player in the NBA, having that perspective might help make Jokić such an incredible force on the court.
Game 1 of the Miami Heat vs. the Denver Nuggets tips off on June 1 at 8:30 p.m. ET on ESPN.