Nickelodeon and Cartoon Network Were Cool With Selling JUUL To Kids
A lawsuit filed by the Massachusetts Attorney General alleges that JUUL Labs, Inc., sold ads to Nickelodeon, Cartoon Network, and CoolMathGames.com.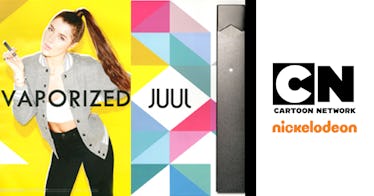 JUUL via SRITA
Think a trusted kids' brand would never try to sell e-cigarettes to kids? Think again.
Yesterday, Massachusetts Attorney General Maura Healey filed a lawsuit against Juul Labs, Inc., the creator of the eponymous e-cigarette, for "creating a youth epidemic by intentionally marketing and selling its e-cigarettes to young people." This is not the first lawsuit of its kind against Juul Labs. The Attorney General joins other states in suing the company over their marketing practices, such as Arizona, California, Illinois, Minnesota, Mississippi, the District of Columbia, New York, and North Carolina. The state of Pennsylvania sued Juul earlier this week and alleged the company not only marketed the super-popular vapes to youths but also misled the public about just how addictive Juul is. (Juul has twice the amount of nicotine as the next, leading noncombustible tobacco device.)
The Massachusetts lawsuit states that in the early days of the company, Juul Labs purchased advertisements on major websites, including Nickelodeon, Cartoon Network, and Seventeen, as well as educational sites aimed at an audience of middle and high school students, including basic-mathematics.com, coolmath.com, math-aids.com, mathplayground.com, mathway.com, onlinemathlearning.com, purplemath-com., and socialstudiesforkids.com. Other sites the e-cigarette brand marketed their products on? Girl-focused gaming site girlsgogames.com and College Confidential, one of the most popular portals for high school students applying to college.
The lawsuit describes two scandals. The first is that a number of outlets aimed at younger audiences ran advertisements for an addictive and potentially dangerous product. Though many of these ads were likely the result of programmatic buying rather than direct ad sales — which is to say that companies behaved irresponsibly but not maliciously — this is broadly indicative of the risks of the chaotic online advertising ecosystem. The second scandal, which comes more clearly into focus, is that Juul set about targeting ads toward children.
The lawsuit also alleges that Juul scrapped a marketing campaign aimed at older consumers that featured retro-tech like a joystick and a clunky mobile telephone above the tagline "The evolution of smoking" in favor of a campaign aimed at much younger consumers. Juul Labs fired Cult Collective, the advertising agency behind the initial campaign and hired an art director to create a campaign that featured young, attractive models posing as Juul-users in hip clothing. The lawsuit states that Juul ran these ads on educational websites.
The lawsuit is both shocking and not. In August, the House Oversight and Reform Committee published a report that found that Juul Labs spent more than $200,000 to recruit Instagram influencers and that over 25 percent of those users' followers were aged 13-24. That same report also found that Juul helped set up a summer camp in Baltimore at a cost of $134,000 and paid $10,000 for access to schools in the area — so they could survey children.
One testimony to the Committee found that Juul representatives went to a high school in New York City and gave a speech to students — with no teachers present — that Juuls were "totally safe." This direct and concerted effort to reach children and teenagers both in marketing campaigns and in funding summer camps and giving presentations to high school students undercuts the company's claim that they market themselves as a cigarette alternative for those who are trying to quit traditional smoking, and are rather trying to hook a whole new generation of nicotine addicts. Juul, like every other tobacco manufacturer, has a proven interest in hooking young people: 9 in 10 smokers tried their first cigarette before they turn 18; less than five percent of smokers pick up the habit before they turn 25. There's a reason why Juul scrapped plans to market themselves to people who already smoke: profit motives suggest they likely wanted a whole new generation of consumers — more than the already three million youths who use e-cigarettes today. And it also appears they've succeeded: from 2017 to 2018 alone, e-cigarette use skyrocketed 78 percent. (Juul was founded in 2017.)
And, per the Massachusetts lawsuit, they were pretty dedicated in helping 18-year-olds get their buzz on. Juul let 1,200 accounts attached to school email addresses, including high schools from several towns in Massachusetts, and, according to the lawsuit, shipped products to people with clearly fake names like one user named 'PodGod.' The lawsuit also mentioned that customer service representatives directed people younger than 21 — in some cities in Massachusetts, that is the legal smoking age — to get Juul products shipped to addresses that belonged to relatives and friends if they were younger than 21, and that Juul worked with 850 stores that the FDA cited for trying to sell tobacco products to underage teens.
This article was originally published on