Nic Cage Has Two Really Good Baby Names Locked and Loaded for Next Child
Celebrities are known for unique baby names – Nic included – but his name on deck for his baby-to-be are actually really cute.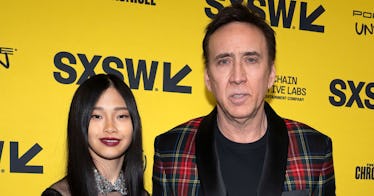 SUZANNE CORDEIRO/AFP via Getty Images
Nicolas Cage is excited to be a dad all over again. He and his new wife, Riko Shibata, are expecting a baby together. It's her first, Nic's third, and they already have a baby girl and baby boy name picked out — and unlike how most people handle it, Cage is ready to tell the world the names they've workshopped, instead of revealing the baby name as a surprise.
We know celebrities often opt for unique baby names and Nic's no different. He's already a dad of two and neither of them has names that we hear all the time. Nic's oldest is 31-year-old Weston Cage Coppola, and he also has a teenager, 16-year-old Kal-El Cage Coppola, who is obviously named after Superman.
Now with another babe on the way, the 58-year-old third-time-dad-to-be recently spoke with GQ and talked about the names he and his 27-year-old wife have already agreed on. The names hold special meaning because they're inspired by Nic's dad, the late August Coppola, and his uncle, Francis Ford Coppola.
The expecting parents have chosen the names Lennon Augie for a girl and Akira Francesco for a boy. "Augie was my father's nickname," Nic told GQ, "And my uncle has decided to change his name to Francesco."
Nic told the magazine that he's looking forward to a new baby entering the world, "It's like a little edamame. A little bean," he said.
In addition to the new love and life that a baby brings into the world, Nic is happy to be in love with his "forever" person. His fifth marriage, the actor and Riko married last year and he's ready to spend forever with her.
"I am a romantic, and when I'm in love, I want to give that person everything I can," Nic shared. "It's my expression of saying, 'I love you. I want to spend the rest of my life with you.' And this is it for me."