Newborns Can Get COVID-19. Here's What That Means
Triplets in Mexico all tested positive on the day they were born. They will probably be okay.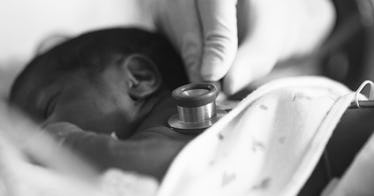 Triplets born to a woman in Mexico all tested positive for the coronavirus on the day they were born. Two of the newborns, a boy, and a girl, are in stable condition at a hospital. The other child, a boy, is being treated for a respiratory condition, though local health officials don't think he is in danger. The mother also tested positive and has an asymptomatic case of COVID-19, according to CBS News.
Experts suspect that the mother probably passed the virus to her children before birth, through the placenta. "It would be impossible for them to have been infected at the moment of birth," said State Health Secretary Mónica Liliana Rangel Martínez. Health officials are investigating the case, which is especially unusual because it is the first time newborns of a multiple-birth have tested positive, at least, according to the BBC.
Though rare, there are several reported cases of newborns with COVID-19. Most of the babies were probably infected after birth. However, the coronavirus can invade the placenta, so it could potentially infect the fetus in the womb, according to a study from May.
If a newborn does get sick, chances are they will be just fine. Most young children are asymptomatic or only get mildly ill and recover without issue. Infants and newborns under a year old may be at higher risk of severe COVID-19 than older children, but the total number of cases in these age brackets is so low that experts can't be certain, according to the Centers for Disease Control. Though the risk is low, some newborns with COVID-19 have needed a ventilator.
READ MORE: What Expecting Parents Need to Know about COVID-19
To lessen the coronavirus risk to newborns, some hospitals are testing pregnant mothers before delivery. If a mother tests positive, doctors assume her baby is also positive until tested and isolate them from other newborns. Hospital staff may also separate the mother and child as a safety measure if the newborn hasn't been tested or is negative. The two could be placed in separate rooms, spaced six feet apart in the same room, or they could be closer in a room with a physical barrier in between them. Mothers may need to wear a mask. Though experts are unsure whether breast milk can transmit the virus, the available data suggests breastfeeding is unlikely to spread COVID-19.
This article was originally published on