New Zealand Declared Coronavirus-Free, Even With Kids Back in School
The country spotted its first case more than a month after the U.S. Today, it is COVID-free. Are there lessons to be taken?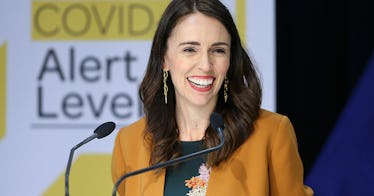 Getty
On Monday, New Zealand's Prime Minister Jacinda Ardern declared the country free of COVID-19. New Zealand was able to achieve that status even with schools open for the past several weeks. If this gives some in the U.S. hope, they might want to take a closer look. When it comes to coronavirus responses — as well as the demographics, economies, and physical borders — the two countries are like apples and oranges.
First, New Zealand's lockdown was strict and strong. The U.S. response was not. New Zealand confirmed its first COVID-19 case on February 28, more than a month after the U.S, according to CNN. Yet starting March 14, the Kiwis required a two-week quarantine for anyone entering the country. On March 20, they shut their borders to all foreign nationals. The country entered "level 3" lockdown on March 23, closing non-essential business, canceling events and gatherings, and shuttering schools for all children except those of essential workers. The U.S. federal government, however, left lockdown decisions up to the states, creating a patchwork of stay-at-home orders. About 20 states still hadn't issued stay-at-home orders by March 30, according to the New York Times.
Largely because of these restrictions, New Zealand, which has a population of 5 million, had only 1,149 coronavirus cases and just 21 deaths as of May 18. The U.S., with a population of 328 million, had 1,479,856 cases and 83,854 deaths by that point. That's about 0.45% of the U.S. population compared to only 0.02% of New Zealand's population with a positive test result.
New Zealand reopened schools on May 18. Several days earlier, they also opened the doors to offices, restaurants, museums, libraries, playgrounds, retail stores, and began allowing competitive and recreational sports to resume, according to the Guardian. A few days afterwards, they even reopened bars. Though all 50 U.S. states are beginning to reopen, we are not at the point yet where it would be safe to follow New Zealand's lead — which they set nearly a month ago.
What's the takeaway here? New Zealand — much like Iceland and South Korea — represent a small, nimble country whose leaders put massive faith in public health officials and received little to no pushback from the public. Because of this, New Zealand could reopen schools and other establishments and continue to watch cases going down to zero.
It should also be noted that the country hasn't had any community transmission within the past 40 days, since April 29. So while the schools didn't spread the coronavirus, there wasn't much virus around to spread in the first place. That's not the situation in the U.S. which continues to add more than 20,000 cases a day to its tally. So feel free to applaud New Zealand's response — and be jealous that they have escaped the pandemic. But that's about the extent of the takeaway we can get from the country. They're basically in a parallel dimension — a COVID-free one — that allows them to open classrooms and go to bars. Health experts in the U.S. will be quick to tell you we're not there yet — far from it.