This Power Ranking Of Least Popular Tourist Attractions Is Hilariously Accurate
A new list shows the tourist attractions that residents of major cities hate the most, and it's absolutely hilarious.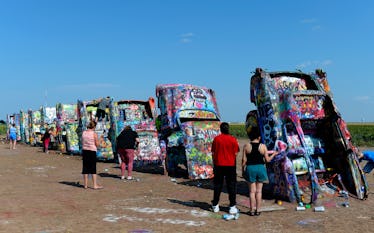 Bryan Steffy/Getty Images Entertainment/Getty Images
Looking for a quick weekend trip as the summer begins to wrap up? Across the U.S., throw a stone and you'll hit an attraction — from national parks (free for the whole family if you have a 4th grader), to historic cemeteries, to hokey tourist attractions alongside major highways during a long road trip. These trips can be just as exciting, if not more, than any destination vacation to a distant locale. There are loads of attractions and cool places to visit near you or across the United States, from the Trans-Allegheny Lunatic Asylum in West Virginia to the Bruce Canyon National Park in Utah. But what attractions are worth it? And what totally stinks?
Hawaiian Islands put together a hilarious power ranking that might help you make some decisions on what attractions to skip — or saunter over to.
HawaiianIslands.com wanted to find out which attractions residents of 12 major cities hate the most, using a list of 8,000 of the most visited U.S. attractions. "We then calculated the average ratings given by tourists from each state and major U.S. city to different American attractions, designating those with the highest average rating the favorites and those with the lowest the least favorite," the site explains. "Finally, we ranked all 50 states and major cities based on the average rating from American tourists across all their attractions."
For the most part, each "least favorite American tourist attractions" by city residents were attractions in different states. But Los Angeles and Atlanta have home-based hater opinions: The most disliked tourist attractions in both cities are based in their respective localities.
And some opinions were about parks nearby. Chicagoans, for example, are not huge fans of the Mt. Olympus Water & Theme Park in the Wisconsin Dells, just over the state line. Bostonians dislike the Foxwoods Resort Casino in Ledyard, Connecticut.
And New Yorkers? Although the place they hate the most is on the East Coast, it's still a plane ride (or a very long car ride) away: Universal Studios Florida.
Tourist Attractions Residents Of Major Cities Hate The Most
Chicago - Mt. Olympus Water & Theme Park in Wisconsin Dells, WI
Baltimore - Hollywood Casino at Charles Town Races in Charles Town, WV
Dallas - Turner Falls Park (a natural swimming hole with waterfalls) in Davis, OK
Washington D.C. - Hollywood Casino at Charles Town Races, in Charles Town, WV
Denver - Crazy Horse Memorial (the world's largest mountain carving) in Crazy Horse, SD
New York City - Universal Studios Florida in Orlando, FL
Philadelphia - Harrah's Philadelphia (a racetrack and casino) in Chester, PA
Los Angeles - Hollywood Walk of Fame in Los Angeles, CA
Houston - Cadillac Ranch (a public art installation and sculpture) in Armadillo, TX
Atlanta - Georgia Aquarium in Atlanta, GA
Seattle - Disneyland Park in Anaheim, CA
Boston - Foxwoods Resort Casino in Ledyard, CT
Whether or not these are truly the most hated tourist attractions might be hard to suss out, but it's interesting to see what people might hate the most — or like a lot. Some of the tourist attractions that ranked the highest among the big cities were National Parks, gardens, and botanicals.
To check out the full list of attractions the big cities love and hate, check out HawaiianIslands.com.