Snow Days Could Be a Thing of the Past, Thanks to Zoom School
New York City is replacing snow days with remote learning. Will others follow suit?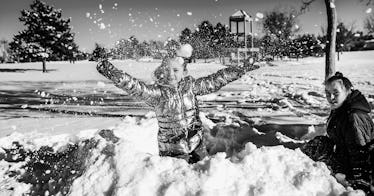 Has remote learning made snow days a relic of the past? It looks that way, at least in New York City.
The NYC Department of Education released its calendar for the 2021-22 school year, which included the revelation that school days would no longer be canceled due to excessive snow. Instead, they will shift students to remote learning on days when the weather closes school buildings and makes travel impossible or unsafe.
"The DOE will shift all students to remote instruction in lieu of canceling schools due to severe weather conditions," a statement from the NYC Department of Education said.
This change obviously stems from the pandemic, which has required schools, students, teachers, and parents across the country to adapt to remote learning for much of the past year. Getting schools up to speed on the technological capabilities of Zoom was the only way to make it through an arduous year — but it now means that schools are equipped to deal with just about any weather disruption or unplanned emergency and that kids can sit at their computers and learn rather than go sledding.
Indeed, the vaccine rollout for teachers as well as all adults has hastened schools returning to in-person learning, including New York high schools reopening in March for the first since November. It's clear that remote learning is not something that will disappear with the pandemic. And NYC might have set the path for other states and school districts to cancel snow days altogether — likely to the disappointment of children everywhere, and the relief of parents, too.
"The pandemic has also created the ability to switch seamlessly to remote learning, and DOE central and schools have distributed hundreds of thousands of devices to ensure that learning can continue remotely during school closures," the statement said.
So far, the end of snow days is exclusive to New York City, but don't be shocked if more cities and states begin to follow suit and simply shift to remote learning when kids can't make it to school. We don't know for sure, but given that it's technically possible, replacing snow days with remote learning could start to happen in the United States, effectively eliminating them altogether.
Unsurprisingly, the looming extinction of snow days has proven divisive, with supporters saying that the utilization of remote learning keeps things on schedule in a year where kid's have been struggling academically.
Parents who would need to make child care arrangements or play with their kid outside while trying to work might feel a welcome reprieve from the snag of snow days, work, and parenting, while some think snow days are a formative childhood experience that contributes to a child's social-emotional experience. Either way, the times, they are a changin'.
This article was originally published on