New Survey Shows Just How Much LGBTQ+ Youth Are Struggling
Transgender youth and LGBTQ+ youth of color are at especially high risk of suicide.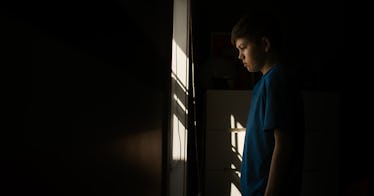 Over the past year, 42 percent of LGBTQ+ youth and more than half of transgender and non-binary youth have seriously considered suicide, according to a new survey. The pandemic has severely hurt the mental health of queer and trans young people — in part because many are stuck at home with unsupportive families.
Unsurprisingly, COVID-19 has made life significantly harder for LGBTQ+ youth. More than 80 percent said that the pandemic made their living situation more stressful, and 70 percent said their mental health was "poor" most of the time or always during COVID. Almost 40 percent of those who had a job lost it during the pandemic. Thirty percent are living with food insecurity, with more Native/Indigenous and Black youth having trouble affording enough food.
The vast majority of LGBTQ+ youth reported symptoms of depression or anxiety, according to the survey, which was conducted by the Trevor Project, the largest LGBTQ+ suicide prevention and crisis intervention organization in the world. The survey included nearly 35,000 LGBTQ+ youth in the US aged 13-24.
The study points toward "big opportunities for people to make a change in their own lives for the people they love," Ken Duckworth, chief medical officer of the National Alliance of Mental Illness, told ABC News. "Two out of three families apparently aren't meeting the needs of people who are responding to this survey. That's a lot of families."
LGBTQ+ kids less likely to attempt suicide when they have at least one adult in their life that accepts them. "We like to remind people — anyone can be that person," Amy Green, Vice President of Research at the Trevor Project, told ABC News.
The risk of suicide is especially high for transgender and non-binary youth, who have faced a tough year of hatred in the form of anti-trans sports bills and bills that would limit trans youth's access to gender-affirming healthcare.
The good news is that parents can reduce their child's risk of suicide with just a few simple steps. Trans youth are less likely to attempt suicide when their pronouns are respected and when they're allowed to legally change their name. However, more than 60 percent of trans and non-binary youth reported that no one they lived with respected their pronouns.
Between police killings of Black people, pandemic-fueled hate crimes against Asians, and COVID-19 disparities faced by racial and ethnic minorities, the past year has also been particularly difficult for LGBTQ+ youth of color.
Sixty-seven percent of LGBTQ+ Black youth and 60 percent of Asian/Pacific Islander youth reported discrimination based on their race or ethnicity in the past year. With the exception of Asians and Pacific Islanders, racial minorities experienced a higher rate of suicide attempts than white queer and trans youth. The rate was highest for Native/Indigenous LGBTQ+ youth, with 31 percent having attempted suicide.
"There's not something inherent about being LGBTQ that relates to increased mental health challenges or suicide risk. It's the way that they're treated," Green said. "And for trans and nonbinary youth and youth of color, those identities are compounded and relating to even greater risk."
More than half of LGBTQ+ youth experienced discrimination based on their sexuality or gender in the past year, and half of youth of color reported discrimination based on their race. Thirty-six percent of those who were discriminated against attempted suicide. Of those who didn't experience discrimination, only 7 percent attempted suicide.
"To all the lawmakers considering anti-transgender bills across the county — we urge you to take a hard look at this evidence and take time out of your day to actually meet with the transgender and nonbinary youth who would be harmed by your misguided proposals," Amit Paley, CEO and Executive Director of the Trevor Project, said in a press release. "Affirming a young person in their gender identity is strongly associated with lower suicide risk. That's why we should be expanding systems of support and implementing more inclusive policies, not denying trans youth access to affirming spaces and care."
This article was originally published on